BA (Hons) Journalism & Media Cultures and Law
About the course
Journalism & Media Cultures
You will gain a wide range of journalistic skills and hands-on experience as part of this course. You'll learn to write in a variety of styles and for different audiences as well as gaining a working knowledge of how communication works and the nature of the British media. Some students may even have the opportunity to get some of their work published.
In your first year you will study Journalism and Media Cultures equally, you can choose to drop one in your second year and take the other forward as a minor field. Maintaining both throughout your degree will allow you to major in Journalism and Media cultures in your final year (there is currently no major option in second year).
Law
Develop relevant practical skills to prepare you for a wide range of careers. Our law modules are taught through a participative and interactive environment.
You will develop:
interpersonal and group skills
an ability to solve problems
logical argument and reasoning skills
your interpretation of the written word
an understanding of social values and public affairs
Whether you are interested in becoming a legal practitioner or simply interested in the law in a more general context, you will develop a core set of skills that will develop your employability and provide valuable insights.
Why choose this course?
Journalism and Media Cultures
Develop your understanding of printed media including how to write news stories, features and conduct an interview
Understand the complex relationships between media and the society we live in
Explore the legal and ethical issues faced by the media and examine the dilemmas journalists may face
Law
Study at one of the top five post-1992 university law schools in the UK
Equip yourself for a broad range of careers in the law industry, commerce and the public sector
Gain experience through mooting and debating competitions as well as visits to courts and tribunals
Student testimonial
"By studying Law and Journalism & Media I was able to learn about news, interview and feature writing, as well as the legal and ethical side to journalism. Journalism & Media is a very practical and creative course. On the other hand law modules taught me how to think logically and structure the arguments well, furthermore part of my assessment consisted of a mock court hearing. I enjoyed the course, gained vital skills, secured legal internship in Shanghai and undertook a placement in marketing" - Patricia Drgonova
Careers
This programme gives you flexibility in your studies at university resulting in flexibility in your choice of career at the end of your course. You will acquire a much broader base of knowledge and experience that could really widen your employment opportunities. Graduates have found employment in diverse roles such as computer programmers, design engineers, management development specialists, accountants and project managers. 95.2% of University of Hertfordshire students are in work or further study six months after graduating, according to the latest Destination of Leavers from Higher Education (DLHE) survey.
Teaching methods
You experience a wide variety of learning styles when you study on the programme. During your time with us we will develop your capacity for self-learning and your interpersonal skills. We particularly emphasise the importance of structured research; well-prepared written and verbal presentations; and computer literacy. Alongside elements of standard lectures, seminars, tutorials and laboratories, you also learn through case studies, individual and group projects and other student centered activities. In your final year you will normally have the opportunity to practise your self-learning and interpersonal skills by undertaking a Major project or dissertation.
Work Placement
You will have the opportunity to take a paid work placement or study abroad for a year between your second and final years, extending your degree from a three year to a four year qualification. You will not be required to pay tuition fees for this year and you will gain excellent experience that sets you apart from the crowd in the graduate jobs market.
A work placement provides you with an excellent opportunity to gain valuable experience and put your theoretical knowledge and understanding from your studies in to practice.
Our Careers and Placements service will help you to develop your CV and support you through the application process for a wide range of placement opportunities in a variety of sectors and organisations.
Study Abroad
This course offers you the opportunity to study abroad in the Sandwich Year through the University's study abroad programme. Study abroad opportunities are available worldwide and in Europe under the Erasmus+ Programme.
Find out more about Study abroad opportunities
You can study in most European countries, USA, Canada, Mexico, Brazil, Chile, Uruguay, South Africa, Russia, China, Korea, Japan, Malaysia, Singapore, Thailand and Australia. You will study a programme of taught modules and/or project work with one of our partner universities, which will complement your studies on the Joint Honours Programme. You may need to study the language of your chosen country in your first and second years. Depending on where you choose to study you may be eligible to apply for certain grants, scholarships and financial support to help finance your study abroad experience.
Structure
Level 4
Core Modules
Introduction to Media Communications - 15 Credits
Introduction to Journalism - 15 Credits
Journalism, Law and Ethics - 15 Credits
Global Media and Society - 15 Credits
Research, Ethics and Skills - 30 Credits
Contract Law - 30 Credits
Optional
Level 5
Core Modules
Graduate & Employability Skills - 0 Credits
Research Methods in Media Communications - 15 Credits
Journalism Skills: Features - 15 Credits
Journalism Skills: News - 15 Credits
The Publishing Industry - 15 Credits
Optional
Radio Journalism - 15 Credits
Social Media - 15 Credits
European Union Law - 30 Credits
Criminal Law - 30 Credits
Constitutional and Administrative Law - 30 Credits
Level 6
Core Modules
Year Abroad - 0 Credits
Graduate & Employability Skills - 0 Credits
Company Law - 30 Credits
Optional
Advertising - 15 Credits
Campaigns and Careers - 15 Credits
Corporate Communications - 15 Credits
Digital Media - 15 Credits
Journalism, Government and the People - 15 Credits
Online Journalism - 15 Credits
Journalism Skills Portfolio - 30 Credits
Law of Tort - 30 Credits
Land Law - 30 Credits
Fees & funding
Fees 2018
UK/EU Students
Full time
£9250 for the 2018/2019 academic year
Part time
£1155 per 15 credits for the 2018/2019 academic year
*Tuition fees are charged annually. The fees quoted above are for the specified year(s) only. Fees may be higher in future years, for both new and continuing students. Please see the University's Fees and Finance Policy (and in particular the section headed "When tuition fees change"), for further information about when and by how much the University may increase its fees for future years.
View detailed information about tuition fees
Other financial support
Find out more about other financial support available to UK and EU students
Living costs / accommodation
The University of Hertfordshire offers a great choice of student accommodation, on campus or nearby in the local area, to suit every student budget.
Entry requirements...
112 UCAS points
IB - 112 points from a minimum of 2 HL subjects at H4 or above.
GCSE Maths and English Language at Grade 4 or above (Grade C or above under the old grading structure).
All students from non-majority English speaking countries require proof of English language proficiency, equivalent to an overall IELTS score of 6.5 with a minimum of 5.5 in each band.
If you do not have the required IELTS or equivalent for direct entry on to your degree programme, our Pre-sessional English and International Foundation courses can help you to achieve this level.
For country specific qualifications, please visit our Your Country page.
How to apply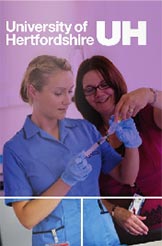 Download the Prospectus