BA (Hons)(SW/YAB) International Business
Over 95% of students said that they were satisfied with the learning resources on the course (NSS 2019)
100% of students said that they were satisfied with this course (NSS 2019)
Key information

| | |
| --- | --- |
| UCAS code | N120, NCT9, N9R1 |
| Institution code | H36 |
| School of study | Hertfordshire Business School |
| Course length | Sandwich, 4 Years |
| Location | University of Hertfordshire, Hatfield |

Entry requirements

| UCAS points | A Level | BTEC |
| --- | --- | --- |
| 112 | BBC | DMM |

Additional requirements

GCSE: Grade 4/C in English and Mathematics

All students from non-majority English speaking countries require proof of English language proficiency, equivalent to an overall IELTS score of 6 with a minimum of 5.5 in each band.

If you do not have the required IELTS or equivalent for direct entry on to your degree programme, our Pre-sessional English and International Foundation courses can help you to achieve this level.

For more details on the University of Hertfordshire's entry requirements, please visit our Undergraduate Entry Requirements page.

Find out more about International Entry Requirements.

The University of Hertfordshire is committed to welcoming students with a wide range of qualifications and levels of experience. The entry requirements listed on the course pages provide a guide to the minimum level of qualifications needed to study each course. However, we have a flexible approach to admissions and each application will be considered on an individual basis.

Sign up for alerts
About the course
If you want a career in international business and love to travel, this four-year degree is ideal. You'll have the opportunity to spend one or two years studying, and possibly working, in Europe, North America, Latin America, Australia or the Asia Pacific region. This course reflects the growing need for managers of tomorrow to have the business and leadership skills, language competency and cultural awareness for success in today's global business environment.
This course is EPAS accredited, which is a programme accredited system of the European Foundation for Management Development (EFMD). The EPAS is a badge of academic quality bestowed on a select group of leading business schools in the world. You can be awarded the degree 'with language' if you choose to study a foreign language in all years of study.
You can also study a language with this course. You can be awarded the degree 'with language' in the title if you choose to study a foreign language in all years of study.
Why choose this course?
Study for an EPAS accredited degree at a internationally focused university.
Learn powerful business theories, practices and skills from a highly regarded academic team.
Travel to one, two or even three different countries, building confidence cultural awareness and valuable language skills.
Study abroad for one or two years, with the option of a semester's overseas work placement too.
What will I study?
You will normally study four 15 credit modules in each semester and your contact time varies between modules, but usually you will have two sessions per week for each module, a one-hour lecture following by a one-hour seminar/tutorial. Typically, a new topic or theory will be introduced in each lecture and will be followed up with class discussion and feedback in the subsequent seminar. In addition, as part of your study time, you will be collaborating with your peers on tasks and group assignments. Module leaders also offer weekly drop in and feedback sessions, usually 2 x 1 hours per module as well as revision sessions.
The University's online learning environment means you can access all your course resources, literature and timetables from anywhere in the world.
Usually, assessment is split between coursework and examinations. The style of coursework can vary from presentations to business reports or essays depending on the taught topics.
Professional Accreditations
Our BA International Business has been EPAS accredited by the European Foundation for Management Development (EFMD). EPAS is a highly respected international scheme which awards accreditation to courses that meet its high standards and have a strong international perspective.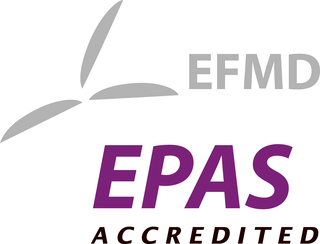 Careers
This EPAS-accredited international business degree gives you exceptional employability and 92% of our graduates are in work or further study within six months of graduating. They go into a wide range of roles in both internationally oriented UK businesses and in organisations all over the world.
Some of our graduates are offered jobs by the companies they took placements with, while others join graduate training schemes with globally focused companies. Some work as international experts within smaller businesses, and others secure professional roles in multi-national companies. Each year a number of our students also stay on to study at postgraduate level.
What job can I get?
With a business degree, language skills and international exposure, you'll be an attractive prospect for employers worldwide, as well as for UK-based multinationals. Many of our graduates work across Europe, North America, Asia and Africa, in the financial, automotive, publishing and retail sectors. They work in fields including HR, marketing, sales, procurement and travel management. Our graduates earn an average salary of £23,000 six months after finishing the course.
Study abroad

Every aspect of this degree is internationally focused, from the modules you'll study here with us at Hertfordshire to the exciting year – or two – you'll spend studying abroad. There are opportunities to gain global perspectives, develop language skills, work overseas and build your confidence.

It's a course with a great deal of flexibility, including the possibility of living, working and studying in three different continents. Where you travel depends on your interests, ambitions and language skills, but you'll be able to choose from over 100 international partner universities, each fully accredited for the quality of its courses and student support.

The result is a qualification shaped entirely around you – a degree designed to help you become a confident, highly skilled business professional ready to launch an incredible international career.

Work placement

As part of your BA International Business, you can take an optional overseas work placement during your Third Year. It's a great opportunity to work in an international context, getting hands-on experience of another country's language, culture and working practices.

Your placement can take you anywhere in the world. It's entirely your choice, as long as you can find a suitable full-time opportunity that isn't in the UK (or your home country, if you're not from the UK). It needs to last for a minimum of 18 weeks and a maximum of six months, as you'll also have to study abroad for a semester during the same year.

Key staff

Elizabeth Viz
Deputy Programme Leader


Natasha Khilji
Programme Leader


Fees and funding

Further information

| Course fact sheets | |
| --- | --- |
| BA (Hons) International Business | Download |
| International Business with Eastern Language | Download |
| International Business with European Language | Download |

| Programme specifications | |
| --- | --- |
| BA (Hons) International Business | Download |
| Languages Programme Specification | Download |

| Additional information | |
| --- | --- |
| Sandwich placement or study abroad year | Mandatory |
| Applications open to international and EU students | Yes |

How to apply