FdA Visual Merchandising
Key information

| | |
| --- | --- |
| UCAS code | WN22 |
| Institution code | H36 |
| School of study | School of Creative Arts |
| Course length | Full Time, 2 Years |
| Location | |

Entry requirements

48 UCAS points

IB - 48 points with a minimum of 1 HL subject at grade 4 or above (with the remaining points to come from a combination of HL, SL and Core).

GCSE Maths and English Language at grade 4 or above. Plus an interview or presentation of portfolio may be required.

The University also accepts a number of other equivalent qualifications including BTEC, IB and Access courses – to find out more about the requirements for these and other equivalent qualifications please visit UCAS

Mature students with GCSE grade C or above English language and maths or equivalent, but lacking traditional level 3 qualifications will be considered on the basis of relevant experience and an appropriate portfolio of work.

Sign up for alerts
About the course
Visual merchandising is a key part of the marketing operation of all major retailers. In department stores and fashion multiples the visual merchandising manager makes sure promotions are consistent throughout the store and its advertising. Visual merchandising managers are responsible for designing and commissioning in-store promotion and display schemes and are experts in how to turn creative ideas into reality.
You'll develop your design and practical skills to standards that will impress the retailers you deal with, learning to source stunning materials, graphics and equipment to carry out your ideas, and to negotiate with suppliers to get the best deal. You'll work on photo-shoots to promote the latest fashion and home furnishing concepts, develop leadership and management skills to get the best out of your team, and learn to use a range of business and design software.
British Display Society Accredited
The Foundation Degree in Visual Merchandising is recognised by the British Display Society as a UK 'Centre of Excellence'. Graduates may receive the award of ProDip.BDS upon successful completion of the course and have the benefit of membership of the British Display Society whilst studying at Hertford Regional College.
Progression Routes
All progression routes outlined below are currently valid; however available progression will be updated on an annual basis in accordance with changes in UH provision.
Entry is to Level 6 contingent on successful completion of the FdA. Additional routes may be available to students at the time of FdA completion.
The FdA Visual Merchandising offers articulated progression into the final year of the BA (Hons) Interior Architecture and Design.
Why choose this course?
This programme will provide you with:
the knowledge and skills to embark on a career in visual merchandising
opportunities for work-based learning and experience in visual merchandising and spatial design
an opportunity to gain a nationally recognised qualification in two years of full-time study
the ability to deal with space, product presentation methods and presentation techniques such as model making
strong industry links with well-known leading retail brands such as Selfridges, Harrods, John Lewis, Marks & Spencer and Ikea and opportunities to gain in-depth work experience via work placements, 'live briefs', and presentations from industry specialists.
What will I study?
You will be taught through a combination of lectures, small group tutorials, course work and practical assignments. Throughout you are encouraged to undertake independent study to consolidate your learning and to broaden your knowledge and understanding of the subject.
In addition, you will be exposed to the application of Visual Merchandising skills and knowledge in the workplace through work based learning. You will study work based learning modules in year one culminating in a work based learning project negotiated with an employer in year two.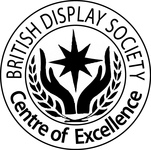 Careers
When you successfully complete your Foundation degree, you can choose to start working in the retail sector, or within design studios supplying visual merchandising and exhibition concepts. Alternatively, you can progress to the Third Year of the BA(Hons) Interior Architecture and Design course at the University of Hertfordshire.