FdA Graphic Design
Key information

Entry requirements

Standard entry requirements

| UCAS points | A Level | BTEC | IB requirement |
| --- | --- | --- | --- |
| 48 | DD | PPP | 48 points |

Additional requirements

GCSE: Grade 3/D in English Language and Mathematics

An interview or presentation of portfolio may be required.

Mature students with GCSE grade C or above English Language and Mathematics or equivalent, but lacking traditional Level 3 qualifications will be considered on the basis of relevant experience and an appropriate portfolio of work.

The University of Hertfordshire is committed to welcoming students with a wide range of qualifications and levels of experience. The entry requirements listed on the course pages provide a guide to the minimum level of qualifications needed to study each course. However, we have a flexible approach to admissions and each application will be considered on an individual basis.

| UCAS points | A Level | BTEC | IB requirement |
| --- | --- | --- | --- |
| 48 | DD | PPP | |

Additional requirements

GCSE: Grade 4 in English Language and Grade 3 in Mathematics

An interview or presentation of portfolio may be required.

Mature students with GCSE grade C or above English Language and Mathematics or equivalent, but lacking traditional Level 3 qualifications will be considered on the basis of relevant experience and an appropriate portfolio of work.

The University of Hertfordshire is committed to welcoming students with a wide range of qualifications and levels of experience. The entry requirements listed on the course pages provide a guide to the minimum level of qualifications needed to study each course. However, we have a flexible approach to admissions and each application will be considered on an individual basis.

Sign up for Clearing support package

Exclusive content to help you through Clearing

Tips and info sent straight to your inbox
Clearing advice livestream
Subject campus tour
1-on-1 call with advisor
Downloadable university starter kit
Opportunity to have your first year society membership fee paid upon enrolment
Why choose this course?
This programme aims to develop your creativity and skills in carrying out projects to meet the needs of clients and audiences. In addition the programme will provide you with:
An emphasis on personal development and employability within the creative industries.
Excellent employer engagement, live briefs, industry feedback, guest speakers, study trips and overseas visits.
An opportunity to gain a nationally recognised qualification in two years of full-time study.
Progression route to the final year of an appropriate honours degree programme at the University of Hertfordshire.
What's the course about?
This course is available to UK/EU students only.
Our FdA Graphic Design programme focuses on developing creative and technical skills which provide a strong foundation for a career in the creative industries. You will undertake a range of vocational projects, which challenge you to provide communication and design solutions in the areas of advertising, branding, digital illustration, editorial design and packaging, as well as new and emerging media. You will learn how to use a range of digital and non-digital techniques to design solutions.
Ideas are at the heart of the course and there is a strong emphasis on practical experimental work. You will be challenged to respond to vocational based briefs in a creative and considered way, evaluating and analysing your work as you progress. This course will develop both your creative and technical skills and at all stages you will be taught how to use established and emerging media through workshops, industry guest speakers, tutorials and seminars delivered by experienced industry professionals.
Through contextual studies and an ongoing seminar programme you will be introduced to the issues of analysis, aesthetic and theoretical frameworks as used in this industry. Through the course's emphasis on work-based learning you will be encouraged to find work placements and job shadowing with industry professionals. You will be working in teams to simulate industry practice across the two years and hone your presentation and communication skills. Through our excellent industry links, both local and national, you will be regularly visited and supported by leading members of the design community.
Where can I progress?
All progression routes outlined below are currently valid; however available progression will be updated on an annual basis in accordance with changes in University of Hertfordshire provision.
Entry to Level 6 is contingent on successful completion of the FdA.  Additional routes may be available to students at the time of FdA completion.
The FdA Graphic Design offers articulated progression into the final year of the following courses:  
What will I study?
Teaching comprises a combination of lectures, seminars, workshops, small group tutorials, course work and practical assignments. You are encouraged to undertake independent study to consolidate your learning and to broaden your knowledge and understanding of the subject. You will also experience working collaboratively on projects with other higher education courses. There is the opportunity to take part in industry live briefs with local community businesses, organisations, groups and head offices as well as prestigious national and international design competitions; these include D&AD New Blood, YCN Student Awards, ISTD Awards, The RSA Student Design Awards and illustration competitions such at The Penguin Random House Student Design Award.
You will have a dedicated design studio space and access to state-of-the-art facilities including workshops and Mac suites as well as industry standard resources. We have a Creative Enterprise Shop that stocks products designed by you. The shop also pops-up at local community events, shops, empty shop units, external exhibitions both local and inner London. The teaching team combines full-time teaching staff with part-time industry professionals, who split their time between teaching and working in the creative industries. Throughout the programme there is an international study trip, as well as national study trips and visits to businesses, agencies, museums and galleries.
You can visit our Instagram @creative_enterprise_hub and follow our current students creative exploits.
Level 4

Level 5

Work placement

The engagement of students with industry through work placement is comprehensive on the programme with a dedicated work-based learning module that provides the opportunity to expand, develop and apply knowledge, understanding and skills learnt with local and national employers. You are also encouraged to independently negotiate and organise your own work placement opportunities.
Check out our student blogs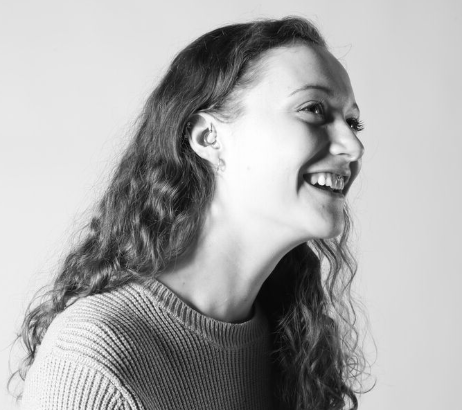 Student Blogs
Emma Thorn - From college to university
I studied FdA Graphic Design. I chose this subject because from leaving school (in year 11) the only thing I was good at was art. I wanted to go into something that would allow me to experience this on a day-to-day basis. So, I did Level 3 Graphic Design at college and then moved up to the foundation degree to carry it on.
Experience studying at college
My experience studying at Hertford Regional College was really positive. Moving up to the foundation degree was the best decision I made. I applied during clearing which can be a stressful time, but I got accepted. I do have to say my fist year on the foundation degree was fun and exciting, but due to being ill I missed quite a lot of time with my friends and developing my skills. But this didn't stop me! All the tutors and technicians are really nice, helpful and will support you if you need it. The facilities that are available to us are unbelievable, they have all industry equipment in the studios. All you need to know is how to use it and get permission, then you are all set. The best bit of the two years was the last year, it was like a wakeup call to me, I knew I wanted to get a distinction so I put in the work! Staying late, going in on independent study days, showing that the first year wasn't going to hold me back… and it didn't, I got the distinction I wanted. Also, it's a great time to be with your friends and go through it all together and support each other, and at the end of it you have the option to find a job, take a gap year or carry on with the final year.
Progressing to university
Progressing onto the last year (level 6) at University of Hertfordshire was the right decision. Due to COVID-19, I was really nervous to start as it was a change to what I was used to but it got better as I got to know the tutors and people. The whole set up for applying was simple because you just follow the instructions within the emails that are sent out. If you get stuck there is always an email or phone number that you can call. If you have a disability like me (I have dyslexia), there is a support team in place to help you with anything.
When getting started, all the tutors were really helpful, if you need more time on a project for extenuating circumstances, there are extensions available to you. You just need to keep the tutors updated on how you are and they can help! I am really pleased that I was able to push myself to do it, as I have become more organised than I was before and I feel confident that I will be getting a job at the end of the year (fingers crossed).
There are a lot of facilities available to use, and like college you have to know how to use it first, then it's accessible to you. These are great ways to develop skills and use them in your projects. Due to COVID-19 though, I am unable to get the real experience of these facilities so hopefully when we go back I can. If you have the chance to use it… then use it. Also don't be afraid to sign up to sports or clubs, you will make more friends and develop as a person.
After I graduate
My next steps after I finish this year is to find a job within the graphic design industry. The University and my studies have supported this. At the moment there is a scheme where we have a mentor who is either from the industry, or a graduate who is in it too. They are able to help with support, tell you what it's like in the industry and look at your portfolio and give advice. We have portfolio lectures to help get them perfect when applying for a job too. Then we are set!
Tips for applying:
I'd give any applicants the following tips:
have confidence that you can do it!
do your student loan as soon possible
be organised with all the emails and paperwork
there is always someone to talk to if you need help.
What's next for my career?

The versatility of the course can lead to a wide range of career opportunities in design and illustration; particularly in the fields of branding, advertising, marketing, editorial design, digital design and design education. Our graduates have also gone on to set up their own businesses or continue their professional practice on a freelance, self-employed basis.

Key staff

Grace Ward
Lecturer in Graphic Design


Liliana Scibetta
Programme Leader for Creative Enterprise Foundation Degree


Further information - includes assessment method

| Programme specifications | |
| --- | --- |
| FdA Graphic Design | Download |
| Foundation Degree in Creative Enterprise (Design Studies) | Download |

| Additional information | |
| --- | --- |
| Sandwich placement or study abroad year | n/a |
| Applications open to international and EU students | No |
| Course length | Full Time, 2 Years |
| Location | |

How to apply?

2021

| Start Date | End Date | Year | Location | Link |
| --- | --- | --- | --- | --- |
| 15/09/2021 | 23/05/2022 | 1 | Hertford Regional College | Apply online (Full Time) |
| 15/09/2021 | 23/05/2022 | 2 | Hertford Regional College | Apply online (Full Time) |

2022

| Start Date | End Date | Year | Location | Link |
| --- | --- | --- | --- | --- |
| 15/09/2022 | 23/05/2023 | 1 | Hertford Regional College | Apply online (Full Time) |
| 15/09/2022 | 23/05/2023 | 2 | Hertford Regional College | Apply online (Full Time) |

Fees and funding