FdA Fine Art Practice
About the course
This course is available to UK/EU students only.
The 2 year full time programme in Fine Art Practice involves the pursuit of visual languages and imagery that have meaning and significance for the artist. The students will investigate areas such as drawing, painting, sculpture, printmaking, digital applications, film, performance, textiles and photography, and have the opportunity to develop their own ideas through appropriate projects.
Students who follow this pathway have the opportunity to develop their own work as an independent practitioner and are regularly given the chance to exhibit their work in various places.
Take a look at the course booklet to find out more.
Progression routes
All progression routes outlined below are currently valid; however available progression will be updated on an annual basis in accordance with changes in UH provision.
Entry is to Level 5 or Level 6 depending on individual performance. Additional routes may be available to students at the time of FdA completion.
FdA Fashion & Textiles - BA Fashion, BA Fashion and Fashion Business, BA Contemporary Design Crafts (Textiles)
FdA Fine Art Practice - BA Fine Art, BA Contemporary Design Crafts (Multi-disciplinary), BA Photography
FdA Graphic Design - BA Graphic Design
FdA Illustration - BA Illustration
FdA Three-dimensional Design - BA Product Design, BA Interior Architecture and Design, BA Industrial Design, BA Model Design (Model Effects), BA Contemporary Design Crafts (Multi-disciplinary)
FdA Media Production - BA Film and Television Production
FdA Photography - BA Photography, BA Fine Art
FdA Visual Merchandising - BA Interior Architecture and Design
Why choose this course?
This programme aims to develop your creativity and skills in carrying out projects to meet the needs of clients and audiences. In addition the programme will provide you with:
the knowledge and skills to embark on a career in the creative and cultural industries;
opportunities for work-based learning and experience in the creative arts and cultural industries;
an opportunity to gain a nationally recognised qualification in two years of full-time study;
a progression route to the final year of appropriate honours degree programmes at the University of Hertfordshire.
Careers
On successful completion of the programme you will be qualified to level 5 and prepared for a career and/or progress your studies to top up your degree to a BA Honours at level 5/6 in Fine Art, Contemporary Design Crafts (Multi-disciplinary), Photography, 3D Games Art and Design.
Teaching methods
This programme addresses the thinking processes, attitudes and skills that are common to all creative activities. It provides a structure that enables you from a variety of starting points to develop your own creativity within a context provided by the industries and organisations that utilises this creativity.
You will be taught through a combination of lectures, small group tutorials, course work and practical assignments. Throughout you are encouraged to undertake independent study to consolidate your learning and to broaden your knowledge and understanding of the subject.
In addition, you will be exposed to the application of creative and cultural skills and knowledge in the workplace through work based learning. You will study work based learning modules in year one culminating in a work based learning project negotiated with an employer in year two.
Structure
Level 4
Core Modules
Creative Problem Solving (HRC) - 30 Credits
Historical and Contemporary Context (HRC) - 15 Credits
WBL: Developing Professional and Employability Skills (HRC) - 30 Credits
Creative Languages (HRC) - 15 Credits
Creative Vocational Practice (Fine Art Practice) (HRC) - 30 Credits
Optional
Level 5
Core Modules
WBL Project: Professional Practice (HRC) - 30 Credits
Contextual Studies (HRC) - 15 Credits
Cultural and Ethical Debate (HRC) - 15 Credits
Final Major Project: Fine Art Practice (HRC) - 30 Credits
Portfolio Development (Fine Art Practice) (HRC) - 30 Credits
Optional
Fees & funding
Fees 2018
UK/EU Students
Full time
£6165 for the 2018/2019 academic year
*Tuition fees are charged annually. The fees quoted above are for the specified year(s) only. Fees may be higher in future years, for both new and continuing students. Please see the University's Fees and Finance Policy (and in particular the section headed "When tuition fees change"), for further information about when and by how much the University may increase its fees for future years.
View detailed information about tuition fees
Other financial support
Find out more about other financial support available to UK and EU students
Living costs / accommodation
The University of Hertfordshire offers a great choice of student accommodation, on campus or nearby in the local area, to suit every student budget.
Entry requirements...
48 UCAS points
IB - 48 points with a minimum of 1 HL subject at grade 4 or above (with the remaining points to come from a combination of HL, SL and Core).
GCSE Maths and English Language at grade 4 or above. Plus an interview or presentation of portfolio may be required.
The University also accepts a number of other equivalent qualifications including BTEC, IB and Access courses – to find out more about the requirements for these and other equivalent qualifications please visit UCAS
Mature students with GCSE grade C or above English language and maths or equivalent, but lacking traditional level 3 qualifications will be considered on the basis of relevant experience and an appropriate portfolio of work.
How to apply
2018
| Start Date | End Date | Year | Location | Link |
| --- | --- | --- | --- | --- |
| 15/09/2018 | 23/05/2019 | 1 | Hertford Regional College | Apply online (Full Time) |
| 15/09/2018 | 23/05/2019 | 2 | Hertford Regional College | Apply online (Full Time) |
2019
| Start Date | End Date | Year | Location | Link |
| --- | --- | --- | --- | --- |
| 15/09/2019 | 23/05/2020 | 1 | Hertford Regional College | Apply online (Full Time) |
| 15/09/2019 | 23/05/2020 | 2 | Hertford Regional College | Apply online (Full Time) |
i
Key course information
Institution code

H36

UCAS code

W190

Entry Requirements

48 UCAS points

Course length

Full Time,

2 Years

Locations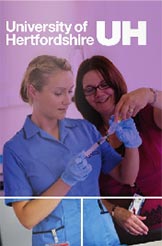 Download the Prospectus