MSc E-Learning Technology
Pay your fees ->
About the course
The MSc eLearning Technology (online) draws on the University's extensive experience in distance-learning, this online Master's focuses on designing and developing e-Learning, equipping you to develop effective, learner-centred applications.
For more information about how online study works, funding and how to apply, please visit UH Online.
Free sample materials!
See how online study works and what kind of learning environment and materials you will access as an online student. Access free sample materials
Why choose this course?
Gain a master's degree in one year full-time or at a pace that suits you through online study
Chose from two different routes depending on your qualifications: an advanced programme for Computer Science graduates - or a route for other graduates that combines foundation modules with options from the advanced modules.
Flexible online learning allows you to fit study around your other commitments, without travel and accommodation costs.
Gain an internationally-recognised master's degree from the UK's University of Hertfordshire.
Benefit from the same academic standards and quality control procedures as our equivalent on campus course
We have an excellent track record in research, with over half of our outputs rated at world-leading or internationally excellent in REF 2014, the most recent national assessment.
Careers
There are many opportunities within the rapidly growing e-Learning industry for technical staff who are highly skilled in the application of advanced IT techniques to e-Learning design.
Typical roles could be those found in traditional IT development projects such as Business Analyst, Programmer, User-interface Designer, Quality Controller or Project Manager. Alternatively there are more specialist roles such as Instructional Designer or Learning Technologist.
Teaching methods
Our online degree programmes are taught 100% online when studied independently, or supplemented by tutorial support when studied at a local study centre run by one of our online partners. Find out more about Tutored eLearning. Assessment is by coursework and online tests.
You will participate in the learning experience through the University's on-line learning environment, StudyNet. You will receive learning materials, take part in discussions and submit your assignments online. Additionally, you will receive study resources such as e-books and any specialist software. You will have access to the University's extensive online library facilities, or be able to visit in person if you so choose.
The amount of study time required is no different from that needed for an on campus programme. You should expect to spend at least 30 hours per week if studying full-time, and in proportion if part-time.
Course length
Full-time, 1 year - 1.5 years (depending on intake)
Part-time, 2-5 years
For more details about online distance learning, please visit UH Online.
Structure
Level 6
Core Modules
Optional
Programming and Program Design - 30 Credits
Level 7
Core Modules
Contemporary Practices in Information Technology - 15 Credits
E-Learning Applications Development - 30 Credits
E-Learning Technology MSc Project - 60 Credits
Learner Centred Design - 30 Credits
Optional
Advanced Database - 30 Credits
Distributed Systems Security - 30 Credits
Interaction Design - 15 Credits
Measures and Models for Software Engineering - 30 Credits
Mobile Standards, Interfaces and Applications - 15 Credits
Multicast and Multimedia Networking - 15 Credits
Secure Systems Programming - 15 Credits
Software Development Tools and Methods - 15 Credits
Software Engineering Practice and Experience - 30 Credits
Web Scripting and Application Development - 30 Credits
Wireless, Mobile and Ad-hoc Networking - 15 Credits
Fees & funding
Fees 2017
UK/EU Students
Full time
£7680 for the 2017/2018 academic year
Part time
£640 per 15 credits for the 2017/2018 academic year
Fees 2018
UK/EU Students
Full time
£8160 for the 2018/2019 academic year
Part time
£680 per 15 credits for the 2018/2019 academic year
Other financial support
Find out more about other financial support available to UK and EU students
Entry requirements...
A recent, good bachelors degree (e.g. honours degree from the UK) or equivalent. Plus IELTS 6.0 if your first language is not English.
Applicants who do not wholly meet these requirements, but who are considered to have the professional experience, motivation or potential to succeed at the programme, may also be accepted.
If you do not have the required level of English for entry, our academic English courses can help you to achieve this level.
View our simple steps to a successful application
How to apply
2018
| Start Date | End Date | Link |
| --- | --- | --- |
| 25/09/2018 | 30/09/2019 | Apply online (Distance (Full Time)) |
| 15/01/2019 | 19/05/2020 | Apply online (Distance (Full Time)) |
| 25/09/2018 | 30/05/2019 | Apply online (Distance (Part Time)) |
| 15/01/2019 | 13/01/2020 | Apply online (Distance (Part Time)) |
2019
| Start Date | End Date | Link |
| --- | --- | --- |
| 25/09/2019 | 30/09/2020 | Apply online (Distance (Full Time)) |
| 15/01/2020 | 19/05/2021 | Apply online (Distance (Full Time)) |
| 25/09/2019 | 30/05/2020 | Apply online (Distance (Part Time)) |
| 15/01/2020 | 13/01/2021 | Apply online (Distance (Part Time)) |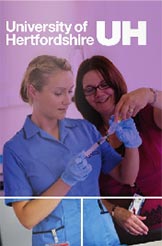 Download the Prospectus