MEng (Hons) Computer Science
Key information

UCAS code

G402

Institution code

H36

School of study

School of Engineering and Computer Science

Course length

Full Time, 4 Years
Sandwich, 5 Years

Location

University of Hertfordshire, Hatfield

Entry requirements

| UCAS points | A Level | BTEC |
| --- | --- | --- |
| 120 | BBB | DDM |

Additional requirements

GCSE: Grade 4/C in English, Mathematics and Science.

All students from non-majority English speaking countries require proof of English language proficiency, equivalent to an overall IELTS score of 6.0 with a minimum of 5.5 in each band.

If you do not have the required IELTS or equivalent for direct entry on to your degree programme, our Pre-sessional English and International Foundation courses can help you to achieve this level.

For more details on the University of Hertfordshire's entry requirements, please visit our Undergraduate Entry Requirements page.

Find out more about International Entry Requirements.

The University of Hertfordshire is committed to welcoming students with a wide range of qualifications and levels of experience. The entry requirements listed on the course pages provide a guide to the minimum level of qualifications needed to study each course. However, we have a flexible approach to admissions and each application will be considered on an individual basis.

Sign up for alerts
About the course
The MEng course allows you to study computer science at an advanced level and includes modules from our Master's programme. The course is wider ranging and more in depth than our BSc, with an emphasis on mainstream computer science and software development. It gives you the option to choose modules from other computer science courses, and involves more of a focus on applying your knowledge to real-world problems. During the course you'll also complete a Master's-level project and have the opportunity to spend a year working in industry or studying abroad.
Why choose this course?
Choose this course with its challenging Masters-level content and an emphasis on mainstream computer science and software development, or change to one of the others in our flexible programme.
Be taught by highly qualified staff, most with a PhD or other advanced degree plus research, teaching, or professional experience.
Be part of a highly regarded well established computer science department with excellent facilities, a strong research background, and links to business and industry.
Prepare yourself for a career in the IT sector through a mix of academic, professional and practical study, with opportunities for industry certifications and a paid placement year. Students have previously worked placements at companies including Apple, Microsoft, and Xerox.
Recent graduates from Computer Science have gone on to work at amazing organisations including Fujitsu, Ticketmaster, and Ocado.
What will I study?
Computer Science is both an academic and a practical subject so you will be taught in different ways such as lectures, smaller group tutorials, supervised practicals (labs) and self-study including experiential learning. Assessment is by a mix of in-class tests, exams, and coursework.
The School has well equipped laboratory facilities, with PCs running Windows 7 and/or Linux and a whole range of industry-standard and educational software from Microsoft, Oracle, Adobe, and others. There are specialist labs for networking, multimedia, devices, robotics, and projects.
In addition to scheduled classes, about 16 hours per week in Year 1, you will be expected to spend the same amount of time in self-study taking advantage of the University's extensive and up-to-date facilities. These include the Learning Resource Centres (LRCs), open 24x7, with over 1,200 computer workstations and wifi access, Studynet our versatile online study environment accessible on and off campus, and open access to our labs.
Most of our students own their own PC or Mac, but this is not essential since you can use the university facilities instead or as well.
What you will learn
You will focus on software development, project management and team working. There is a greater focus on applying knowledge to real-world situations. You will complete an individual MEng project and study taught optional modules from both the BSc and the Master's programmes.
First Year
You will learn the foundations of the subject including topics such as an overview of the field, programming, modelling, and computing platforms.
Second Year
You will deepen your understanding and develop more advanced skills. There are technical modules on software development, programming, databases, operating systems and networks, plus two options.
Third Year
You have the option of taking a year's paid work placement.
Fourth Year
You will be offered core modules on project planning, computer security, the user experience and concurrency, plus two options. In addition you will undertake a team project, possibly in conjunction with a local business.
Final Year (4th or 5th)
You will study four taught options plus an extensive 60 credit individual project, typically a major piece of practical work. In this final year, the project and at least two of the options are at Masters level.
Professional Accreditations
Accredited by BCS, the Chartered Institute for IT on behalf of the Engineering Council for the purposes of fully meeting the academic requirement for registration as a Chartered Engineer.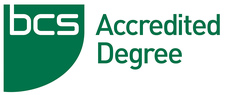 Careers
Our graduates have become software developers, programmers, web developers, business analysts, database administrators, project managers and IT consultants, or have studied for postgraduate degrees. There are careers across many employment sectors, including the IT industry, business, education and government.
Recent employers have included Blackberry, GSK, HP, IBM, John Lewis, and T-Mobile. Other graduates have continued with postgraduate studies (typically an MSc or PhD) at Hertfordshire or at other universities.
This particular degree title is at a more advanced level and hence is preparation for a wide variety of demanding careers in many areas of computing or software development, in technical work and/or management.
It is broad-based and flexible, with an emphasis on mainstream computer science and software development, thus keeping your career options open. It draws on the School's breadth of expertise and its extensive experience of computer science education at both undergraduate and postgraduate levels.
The course is for anyone with an interest in academic computer science, in particular software development, and how it can be applied to benefit individuals and organisations. As it is more demanding than the BSc, the entry requirements are higher and you need to maintain at least a 2:1 equivalent standard throughout. It is not necessary to have A-level or equivalent in Maths, Computer Science or ICT.
The programme as a whole is very flexible. The MEng in Computer Science course gives you the opportunity for an optional work placement in the third year, a number of options in later years, and the chance to switch to the BSc in Computer Science should you wish to complete the course sooner. Equally, it is possible to switch to the MEng from the BSc in Computer Science during the first two years of the course. However, you do not need to decide until you have started your course and can make an informed choice based on experience.
What job can I get?
This course gives you the skills and knowledge for a career as a developer, software engineer, project manager or IT consultant. Common employers typically include IT consultancies and IT service providers in the telecommunications, aerospace, defence, financial services and retail sectors.
Study abroad

This course offers you the opportunity to study abroad in the Sandwich Year through the University's study abroad programme. Study abroad opportunities are available worldwide and in Europe under the Erasmus+ Programme.

Work placement

You have the opportunity to undertake a professional placement for your third year. We encourage you to take advantage since on average placement students have a greater chance of finding good employment after graduation and achieve higher grades in their final year.

Work placements are spent in a paid job relevant to your degree. You apply in the second year, with support from the University using our extensive contacts with employers. Recent placement students have worked at large organisations such as:

Apple
BT
IBM
Intel
GSK
Microsoft
Xerox.
Numerous smaller organisations, some family-run or near home.

Fees and funding

Further information

How to apply