MSc (SW) Advanced Computer Science
We welcome applications from international and EU students
About the course
This course allows you to study two or more areas of computing that relate to your interests along with key core areas of computer science. Depending on the modules chosen, it can lead to a career in areas such as software development, systems design, user interface design, or database design and administration.
Course Structure
The MSc Advanced Computer Science course consists of two major parts: taught modules and an MSc project. Each taught module has an assigned number of credits (either 15 or 30). Some modules are compulsory and some are elective. The project is compulsory and has a modular value of 60. In order to obtain an MSc degree you must study and pass 120 credits of taught modules plus the project i.e. 180 credits in total.
Part I: Taught modules:
A student will complete a set of compulsory taught modules which are Professional Issues (15 credits), Investigative Methods for Computer Science (15 credits) and Programming Paradigms (30 credits). The remaining 60 credits can be made up from any elective modules of the student's own choice.
The elective module lists are available under the "Modules" menu.
Part II: MSc Project
After completing the required taught modules, the student may progress to the project.
Why choose this course?
This MSc is available with an optional one year industry placement. The 'with placement' programmes give you additional industrial experience by applying the skills you have learned throughout your studies.
This MSc is one of a range of advanced courses within our postgraduate masters programme in Computer Science.
You will develop knowledge and skills in the models, methodologies, measures and tools that can be employed in your future career
You will be taught by a highly-regarded and long-established computer science department with strong links to business.
Half the research outputs in Computer Science at the University of Hertfordshire have been rated at world-leading or internationally excellent in the Research Excellence Framework (REF 2014).
Careers
Our masters programme is designed to give Computer Science graduates the specialist, up-to-date skills and knowledge sought after by employers, whether in business, industry, government or research. This particular course will prepare you for a career such as a software engineer, developer or project manager.
Teaching methods
Classes consist of lectures, small group seminars, and practical work in our well-equipped laboratories. We use modern, industry-standard software wherever possible. There are specialist facilities for networking and multimedia and a project laboratory especially for masters students. In addition to scheduled classes, you will be expected a significant amount of time in self-study, taking advantage of the extensive and up-to-date facilities. These include the Learning Resource Centres, open 24x7, with 1,500 computer workstations and wifi access, Studynet our versatile online study environment usable on and off campus, and open access to our labs.
Work Placement
This MSc is available with an optional one year industry placement. The 'with placement' programmes give you additional industrial experience by applying the skills you have learned throughout your studies.
This offers you the opportunity to work for one year in a highly professional and stimulating environment. You will be a full time employee in a company earning a salary and will learn new skills that can't be taught at University. During the placement, you will be able to gain further insight into industrial practice that you can take forward into your individual project.
We will provide excellent academic and personal support during both your academic and placement periods together with comprehensive careers guidance from our very experienced dedicated Careers and Placements Service.
Although the responsibility for finding a placement is with you, our Careers and Placements Service maintains a wide variety of employers who offer placement opportunities and organise special training sessions to help you secure a placement, from job application to the interview. Optional one-to-one consultations are also available.
In order to qualify for the placement period you must maintain an overall average pass mark of not less than 60% across all modules studied in semester 'A'.
Structure
Level 7
Core Modules
Programming Paradigms - 30 Credits
Advanced Computer Science Masters Project - 60 Credits
Preparation for Placement - 0 Credits
Professional Work Placement for MSc Computer Science - 0 Credits
Optional
Data Mining - 15 Credits
Human Computer Interaction: Principles and Practice - 30 Credits
Measures and Models for Software Engineering - 30 Credits
Programming for Software Engineers - 30 Credits
Software Engineering Practice and Experience - 30 Credits
Distributed Systems Security - 30 Credits
Secure Systems Programming - 15 Credits
Network System Administration - 15 Credits
Multicast and Multimedia Networking - 15 Credits
Wireless, Mobile and Ad-hoc Networking - 15 Credits
Artificial Life with Robotics - 30 Credits
Neural Networks and Machine Learning - 30 Credits
Theory and Practice of Artificial Intelligence - 30 Credits
Information Security, Management and Compliance - 15 Credits
Digital Forensics - 15 Credits
Penetration Testing - 15 Credits
Cyber Operations - 15 Credits
Investigative Methods for Computer Science - 15 Credits
Professional Issues - 15 Credits
Entry requirements...
A recent, good bachelors degree (e.g. honours degree from the UK) or equivalent in Computer Science or closely-related subject. Plus IELTS 6.0 if your first language is not English.
Applicants who do not wholly meet these requirements, but who are considered to have the professional experience, motivation or potential to succeed at the programme, may also be accepted.
If you do not have the required level of English for entry, our academic English courses can help you to achieve this level.
How to apply
2018
| Start Date | End Date | Link |
| --- | --- | --- |
| 25/09/2018 | 31/05/2019 | Apply online (Full Time/Sandwich) |
| 16/01/2019 | 30/09/2019 | Apply online (Full Time/Sandwich) |
2019
| Start Date | End Date | Link |
| --- | --- | --- |
| 25/09/2019 | 31/05/2020 | Apply online (Full Time/Sandwich) |
| 16/01/2020 | 30/09/2020 | Apply online (Full Time/Sandwich) |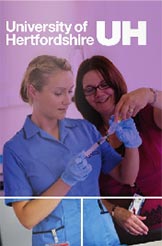 Download the Prospectus