COVID-19 Testing for students and staff
COVID-19 testing is available to all our students and staff at the University to help keep our community safe.
Why getting tested is important
Did you know that 1 in 3 people who have COVID-19 do not have any symptoms? This is why getting an asymptomatic test before coming to campus is the best way to protect our community and minimise the spread of COVID-19. Testing makes it possible for us to track COVID-19 cases on campus and ensure the University remains a safe environment for everybody in our community.
Who should get tested

All students who are living on campus, arriving on campus for scheduled in-person teaching or practical's, or to use our LRC and study spaces should get an asymptomatic COVID-19 test, even if they feel fine as it is possible to have COVID-19 without showing any symptoms. The test is free, very simple to do, and average results are within the hour.

How often you should get tested

There is no limit on the number of tests staff and students can take, so you can book as many times as you wish. If anyone is coming on to campus weekly, or if students live in halls, they should get tested twice a week, every week. The recommendation is to book your tests three days apart.

Why two tests?

Even if you don't feel unwell, you may have very weak symptoms of COVID-19. Taking two tests every week allows us to pick up any cases that may have been hard to detect or were newly developed. This will help to keep cases as low as possible in our community.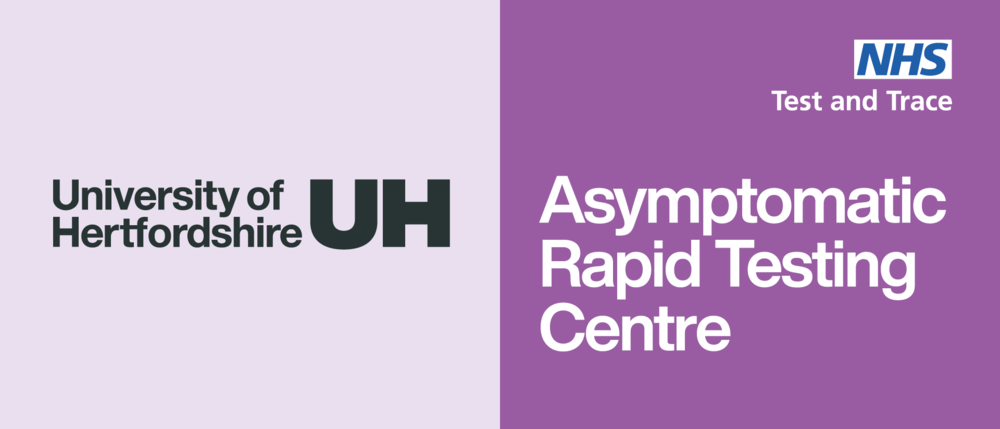 Student and staff
asymptomatic

testing

The Asymptomatic Rapid Testing Centre at the Forum Restaurant is open for appointments, and students and staff must book before attending. This Testing Centre is only for people who do not have symptoms. If you develop COVID-19 symptoms before your test, do not come to the Testing Centre. Instead, please follow the Government guidance and see the NHS information below on this page.
Location

The student and staff Asymptomatic Rapid Testing Centre is located at the Forum Restaurant in The Forum Hertfordshire, College Lane Campus. See the map. When you arrive for your appointment, please follow the purple University signs for the 'Asymptomatic Rapid Testing Centre.' You will be asked to queue in the foyer area of the Forum.

Opening times

The Testing Centre is open:

Monday to Friday: 8:00 to 15:00
Saturday: 10:00 to 14:00

The testing process

Before you arrive, download the NHS app and create an account. Students will need to access this account when they register their test at the Testing Centre. Creating the account before they arrive will help speed up queuing and waiting time at the Testing Centre.
Arrive at the Forum Restaurant at the allocated date and time. Remember to:

wear a face covering (if you can) and remember to maintain social distancing
bring a copy of the email confirmation (on students' phones or printed out)
be punctual so we can minimise queuing

Collect a test kit and scan the QR code. This will register students' details to the test.
Enter a testing booth. Students will be called forward when a booth has been sanitised and is ready.
Take the test. Follow the instructions on the kit to self-administer the test (or ask a member of staff for assistance).
Hand in the test to the member of staff in the booth and exit the testing unit, following the signs and directions from staff.
Go home immediately to await the test results. The NHS will send the results by text or email. Average results time is within one hour.
Tell us if the test result is positive. Students will receive a message from the University asking for their results. Please let us know so we can provide support if they need to self-isolate. Telling us the results will also help us to protect our community.

If your results are negative

Students who test negative are still encouraged to book repeat tests, at least three days later, for continued peace of mind. While negative tests will help to ensure that students do not have COVID-19, we still ask that students continue to adhere to Government guidelines around social distancing and practicing good hygiene.

If a student tests negative but is identified as a close contact of someone who has tested positive, they must still self-isolate for a period of 10 days – whether this is at home when they travel home for Christmas, or at university when they return in the new year.

If your results are positive

Students or staff who test positive will need to self-isolate and book a second test via the Government's website for the NHS COVID-19 testing facility on campus. This second test is using the Polymerase Chain Reaction (PCR) test. Results take longer to process but they will confirm if you have COVID-19, and will eliminate any risk of a false positive.

If this result is also positive, students and staff will need to self-isolate for 10 days. Students need to notify the Dean of Students team. Staff will need to notify their line manager. Read more on HertsHub

During the period of self-isolation, lots of support is available for students, including food packages, cleaning supplies and mental health and wellbeing support.
Where to get tested if you have symptoms
To support our NHS, the University is hosting a COVID-19 testing facility, seven days a week, on de Havilland campus. This facility is for any University staff, students, or members of the local community who are showing symptoms of COVID-19. You can book a slot in advance on the Government website.