Rupa Patel
My role at the University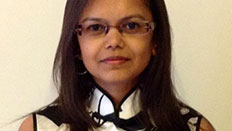 After graduating, I joined the University of Hertfordshire as a Casual Staff.
A few months later, I was appointed as an IT/IS Assistant in the ID Office and I now manage the ID Office as a Senior Security Services Executive.
A typical day at work
My day varies from managing projects to running reports to troubleshooting and resolving any hardware/software issues to carrying out front desk duties. Customer service and student experience is always at the top of my agenda. With this in mind, I regularly meet with suppliers to bring innovative solutions which would help enhance student and staff experience.
I am also responsible for managing the University's electronic door entry system which involves carrying out software upgrades and ensuring that our system runs with the latest updates available from the suppliers.
The University runs 2 key enrolment sessions each year and I have to ensure that the ID card process runs smoothly each time. On average, we print around 9,000 ID cards within 3 weeks during the Semester A registration period.
We aim to get ID cards ready for collection by the time a student has completed the registration process. Students can collect their ID cards on the same day. This process takes a lot of planning and preparation which is something I manage each year.
Why I like working for the University
I feel proud and happy to be working at the University of Hertfordshire as everyone is so friendly and supportive.
The University offers various staff development opportunities and most of the programmes are designed to fit around the academic year. During my 10 years at the University, I have been able to develop my career and build a very strong working relationship with colleagues across the University.
I find my job rewarding as I have acquired a wealth of knowledge and am still learning!