Mark Allen
My role at the University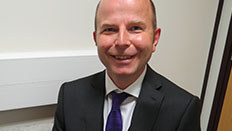 My job title is Senior Internal Auditor, and I came to the role in January 2013, having worked for the previous 23 years within local authorities. I'd been doing internal audit there, and had progressed into management for the last couple of years. There were big changes happening, and I decided that I would just have a look elsewhere.
I saw the job at the University advertised in the magazine published by the Chartered Institute of Internal Auditors, I thought it sounded very interesting, so I thought I'd apply for it and go for the interview. I was lucky enough to be offered the job, and it happened for me at exactly the right time. When you go for an interview, you get a feel for a place pretty much straight away, and immediately I thought, "I can see myself here." So, when I got the job offer, I literally snapped it up!
I've had such a fantastic reception at the University. I thought I'd be pining almost every day for my old job, but I haven't at all. The welcome I've had from people has been so friendly, particularly since when you work in Internal Audit, people get quite anxious about what you're doing – you're trying to find out about what they do. I reassure people that the aim is just to provide assurance that what they're doing to control the risks in their areas is actually working, and if not, that I will work with them to find solutions. I don't audit people, I audit systems and processes. It's never intended as a reflection on individuals, its about how can we make things work better for the University as a whole to make sure that we're delivering the University's aims.
A typical day at work
I don't think there's such a thing as a typical day for me – it depends which stage of an audit I'm at. When I'm first allocated an audit, I would have to do some research in the general area so I don't go in as a total novice. As it's the first time I've worked in higher education everything is new. And there's also working out where I've got to go that day in terms of which rooms I have to go to, because the campuses are big and there are still some rooms I've yet to go to.
But, once I'm through the initial stages of an audit, and I start into the actual fieldwork, I would be arranging meetings with individuals to discuss with them how their particular area of work fits into the overall area that I'm looking at and testing how things work in practice. When I've completed my fieldwork and drawn conclusions I would then meet with the relevant managers to make sure that I haven't misinterpreted anything and to discuss the recommendations I plan to make (if any), getting agreement as to how they're going to implement those changes, and how they think they will help going forward. Lastly, I write a draft report, receive the comments on that, update and issue the final report, and then I move on to the next audit.
Why I like working for the University
I think it's the positive attitude – very much a 'can-do' attitude. In some ways it's similar to Local Authority structure in that there's lots of committees and various sub-committees. The big difference seems to be that the University actually gets things done! It's not just about talking. It's about things moving on and consistently improving the student experience. I admire that whole ethos and how the University works to improve it, and everyone is so positive about that. It's been a very easy transition. I thought I would struggle having worked somewhere else for such a long time but it's been so smooth and so easy.