Lisa Toon
My role at the University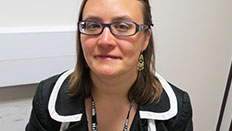 I'm a Senior Executive Assistant to the Secretary and Registrar, Sue Grant. I worked for another company before, and I saw the job advertised, applied for it, and got it. I've worked here for 7 years now.
A typical day at work
I always have a plan, but it never quite works out that way! I have a regular structure - I check emails, which can be both internal and external it varies. I deal with any post that come in. A lot of the day is spent setting up meetings and changing them if needs be, and just dealing with things as they happen – like if the governors need an urgent paper – it just depends, really.
My role does involve admin work, but it is quite interesting. Although I'm in the office most of the time, I do get out when I go to meetings to take the minutes, and I get involved in different things – like when they're recruiting for senior staff or chaperoning people around, for example. So it is quite interesting in that respect.
Why I like working for the University
I like the team that I'm in – we work well together. There's a lot of support there, which is nice. I like the different people across the University that I deal with. There are some really nice people out there that make things better when you're dealing with certain issues. It's just a nice environment to work in – people are friendly and helpful.