Brianne Littler
My role at the University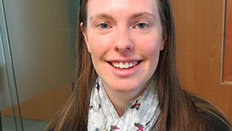 I work in the Student Centre where I'm the Team Leader for Student Records and Enrolment. I was actually a student here and graduated back in 2010. My degree was called Screen Cultures in Creative Arts.
I was on the 'casuals' list while I was doing my degree, so I was working in the Fielder Centre whilst studying. Then, I applied for internal roles within the University and worked at the Learning Resources Centre (LRC) for a little while before moving into the Placements Office for Nursing, Careers and Placements, and finally the Student Centre.
A typical day at work
It's difficult to say, because I don't really have a typical day structure. I could be registering students or planning the University's main registration session, answering queries from students or employers, or looking at our processes to see how we can make things better moving forward. Sometimes that can be all in one day! There's lots of things to get involved in and it's always really varied – you never know what you're coming in to.
Why I like working for the University
I think the atmosphere is really nice. Having been a student here, I just really loved the whole University and that's part of the reason why I came to work here afterwards. All of the staff in all the departments I've worked for have always really cared about the students and have really tried to make a difference.
The benefits that the University offer to its staff are really good, I think. You've got all the HR development courses, so you can do all kinds of things to better yourself and try to work your way up the ladder. There's also the discounted Sports Village membership. There are just so many different things that you can get involved in around the University. It's just amazing, really – so many opportunities.