Information for international job applicants and applicants moving into Hertfordshire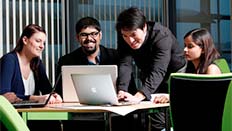 This page contains information which you may find useful if you are planning to work in the UK or move into the area. If you have further queries, please contact us.
We have a diverse and vibrant staff community at the University of Hertfordshire with members of staff from a wide range of areas.
Applications from international staff are always welcome but you will need to have permission to work in the UK before you start any job. Only in very exceptional circumstances will the University be able to apply for a work visa for a new member of staff.
Good to know