Adjustment guide
What is Adjustment?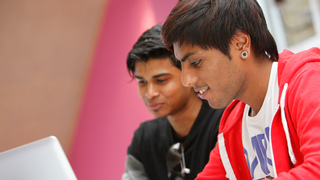 Adjustment is a process that allows you to apply to a different university or course if you achieve better grades than your conditional firm (CF) offer requires.
If you get higher grades than your current university offer states, you can still apply to the University of Hertfordshire and 'trade-up' and we'd be delighted to have you.
When is it?
Your individual Adjustment period starts on:
15 August 2019 (BTEC and A level results day)
or
when your conditional firm (CF) choice changes to unconditional firm (UF), whichever is later.
From this time you have a maximum of 5 calendar days to register and secure an alternative course.
The Adjustment period will end on 31 August 2019. Your UCAS Track 'choices' page will show you exactly when your Adjustment period ends.
If you want to try to find an alternative course you need to register to use Adjustment so universities and colleges can view your application.
Am I eligible?
Check UCAS to see if you are eligible for Adjustment.
How do I use it?
Register in UCAS Track if you want to use Adjustment.
The option to register will be displayed for all applicants whose place has been confirmed. Your status then changes from conditional firm (CF) to unconditional firm (UF).
You will only be eligible for Adjustment if you have met and exceeded your original CF offer conditions.
It will be up to the universities and colleges to verify this.
What to do:
Register in UCAS Track by clicking on 'Register for Adjustment' on your 'choices' screen.
Contact a university or college to find another place.
The institution will:
check that you exceed the conditions of your unconditional firm choice.
tell you if they can offer you a place, and you tell them if you want to accept it.
If you are accepted through Adjustment, your UCAS Track screen will be updated with the new choice and UCAS will send you a confirmation letter.
What do I need to consider?
It is optional
Adjustment is entirely optional, and not everyone will want to try to find an alternative place.
Nothing really beats the careful research you did before you made your application to find the right course and university for you.
No guarantee
There is no guarantee there will be any vacancies on the course you decide you want to be considered for.
The most competitive courses are unlikely to have any places available.
You may wish to re-apply for entry in 2020 in order to be considered for all courses. The vacancy situation may change on a daily basis, if other applicants decide to move places.
Accommodation and student finance
Before deciding to use Adjustment, you should also consider non-academic arrangements such as accommodation and student finance.
These may be difficult to secure or there may be delays if changes are made at short notice. We still have accommodation places available to anyone applying via Adjustment.
Get advice
Talk to a careers adviser at your school, college or local careers office. They can help you decide whether to register to use Adjustment.
The decision
You can contact more than one university or college to discuss vacancies, but you will only receive one formal decision through Adjustment.
No Adjustment offer
If you have not received an alternative offer through UCAS before your Adjustment period ends, you will revert back to your original place.
Give us a call
0300 303 6300 is the Adjustment hotline for the University of Hertfordshire.
Call us to talk about an Adjustment place.