GCE A Level Results Summary 13th August 2020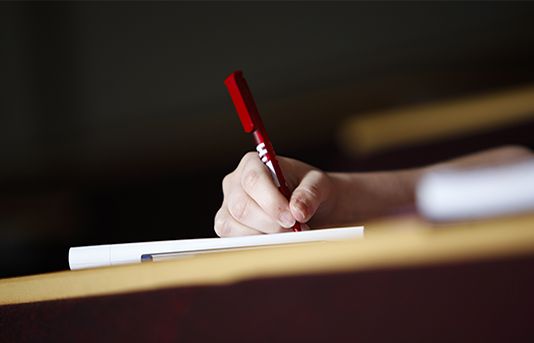 13 August 2020
On Thursday 13th August 2020, the examination boards released GCE A Level and other Level 3 results.
A summary of the results from the Joint Council for Qualifications briefing can be found below
Overview
On 18th March 2020, the Secretary of State for Education announced that the GCSE, AS and A level exam series was to be cancelled. The Department for Education directed Ofqual to mandate to exam boards a system for awarding GCSE, AS and A levels this summer, which was as fair as possible and enabled students to progress to further study or employment.
Ofqual has sought to ensure, as far as is possible, that qualification standards are maintained, and the distribution of grades follows a similar profile to that in previous years. Exam Boards developed entirely new systems to collect Centre Assessed Grades (CAGs) and rank orders for every student and it is widely recognised that teachers and colleagues worked exceptionally hard to allocate Centre Assessed Grades and rank orders using their professional judgement and to submit them in good time.
Summary of results
Overall outcomes (England, Wales & NI) follow a similar profile to previous years, with overall pass rates up by 0.7 percentage points from 2019 and 2018. The proportion of students being awarded A*-A increased by 2.4 percentage points (pp) in 2020 from 2019, and A*s awarded increased by 1.2 percentage points (pp) from 2019.
In England, 96.4% of grades awarded were the same as or within one grade of centre assessment grades. Despite the unprecedented circumstances this year, the measures put in place for awarding this year mean students will be able to progress to further study or employment with the grades awarded.
Awarding in 2020: Wales and Northern Ireland
While similar to awarding in England, there are some differences in Wales and Northern Ireland where the AS Level continues to contribute 40% towards the overall A Level qualification and so the majority of A Level candidates in Wales and NI completed AS level qualifications in 2019. AS attainment from previous years formed part of the standardisation process this year along with the centre assessment grades and rank order information. Awarding of AS qualifications this year used a similar standardisation process to one used in England.
Population and Entries
Overall A Level entries were down 3.1% which is in line with the 18-year-old population (E, W & NI) which is down 3.2% (down 2.9% in 2019). Overall AS entries were down 20.5% as expected since their uncoupling with the A Level qualification.
A Level Outcomes
National outcomes follow a similar profile to previous years. Pass rates are up by 0.7pp‡ (those achieving A*-E) from both 2019 and 2018. The proportion of candidates receiving an A* and A*-A has increased by 2.4pp from 2019 and 1.5pp from 2018. The proportion of candidates receiving an A* increased by 1.2pp from 2019 and 1.0pp from 2018.
A Level Outcomes by Gender
Female entries accounted for 55.4% of all A Level entries in 2020, up from 55.0% in 2019 and 2018 and female outcomes in 2020 are slightly higher than males at A*-A. However, a higher percentage of males received an A*. Ofqual analysis has shown that differences in outcomes for students with particular protected characteristics are similar to previous years.
Entries in the Sciences
Total science entries (biology, chemistry, physics) still account for over 20% of all A Level entries. Female entries remained higher than male entries comprising 50.9% of science entries up from 50.3% in 2019.
Science Outcomes
Pass rates are up in biology, chemistry and physics (E and above) and outcomes reflect the overall picture with increases at A* between 0.6pp and 1.8pp.
Mathematics
Mathematics remains most popular single subject with overall entries are up by 2.5% to 94,168. 18-year-old entries increased by 7.7% to 83,046 and an increase in A* grades of 0.5pp and 0.9pp for A*-A grades was seen.
English
Overall English entries increased by 1.8% and the pass rates for English remain stable compared to previous years.
Modern Foreign Languages
Spanish entries continued to increase, maintaining their status as the largest MFL whilst entries for French, German and Spanish continued their respective recent trends with:
Spanish up 0.9% to 8,705
German down 6.2% to 2,845
French down 1.1% to 8,260
Male entries declined 6.2% across French, German and Spanish combined, but female entries increased by 1.5%.
Further information
Further information about results can be found on the JCQ website here and the Ofqual website here.
Links to press releases from JCQ can be found here https://www.jcq.org.uk/a-level-results-press-releases-2020/