Gordon's School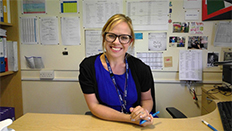 Gordon's School is one of the UK's leading non-selective state boarding schools situated in Woking, Surrey. Rea Mitchell, Assistant Head talks about her experience of the Excellence in Assessment (schools) accreditation.
"The Excellence in Assessment Accreditation cemented that our assessment processes and procedures were good from an external perspective. It confirmed that we have strong practices which now gives us credibility when talking to governors and staff - teachers are expected to dedicate time to marking and this process enabled them to see the bigger picture of why our systems had been designed as they had and how their marking fed into the wider processes in place. We operate quite tight systems but the accreditation process made us aware that these systems can still be improved and allowed us to put in place staff feedback mechanisms as a result.
The process was not onerous at all. It was really clear what was required. The Chartered Educational Assessor assigned to our school carried out an extensive investigation into our school from our website and other available sources of information so when they came they already had a really good grasp of the school.
We found the Assessor really responsive and helpful. If you want an honest perspective or critique of your assessment systems and how effective they are, this accreditation is extremely useful. It also highlights areas for improvement and provides an external perspective and access to a critical friend to help make necessary changes."