Consultancy
Assessment is a complex area of education which requires skill, expertise and experience to get it right. The CIEA supports schools by providing specialist, high-quality consultancy to support schools in developing their assessment practices.
Specific Assessment Consultancy
A one-day consultation would be provided using our Assessment Quality Assurance Plan framework as a basis for support. See diagram.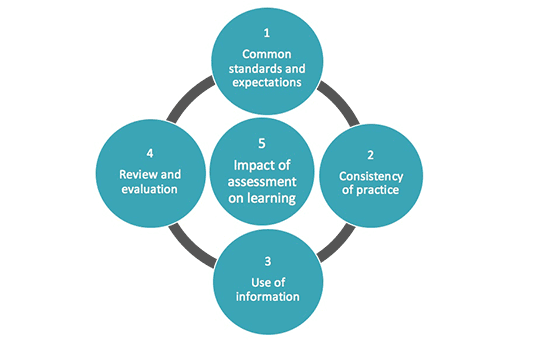 During the first part of the day, a Chartered Educational Assessor will work with you to review the school's current assessment practices and procedures. This will include dynamic dialogue with key staff. Areas covered will include:
Policy
MIS
Staff usage
Training
Identification of assessment leads
Benchmarking
Use of data and Intervention
Understanding of different types of assessment
Following the visit the Assessor will submit a report, linked to the framework, summarising strengths and where further work needs to be undertaken. Recommendations on areas for development will be made.
For schools requiring more specific support in the areas above, we can provide shorter consultancy sessions for example:
Policy writing
A Chartered Educational Assessor will liaise with your school to determine existing documentation on policy and explore how your school assessment operates.
The Assessor will then develop an assessment policy draft based on information provided by the school and will send it electronically to the school for comment and questions. This will be followed by a half-day visit to finalise the policy and help with the preparation of a report for governor approval.
Benchmarking, target setting and progress reporting
This is a day-long consultancy during which a Chartered Educational Assessor will work through the process of benchmarking, target setting, interim assessments and final assessments with your school. The Assessor will look at any tracking systems your school has in place and will test its effectiveness. The day will include looking at how outcomes are then reported to governors and to parents, again looking at the facilities available in the school's MIS system. Recommendations for development will be made during the visit.
Writing and marking assessments
This is a day workshop with a focus on how to put together assessment, for example, the use of language, the use of multi-choice questions, how to link assessment to schemes of work. A Chartered Educational Assessor will work with a small number of 3 – 4 staff to introduce the theory behind different aspects of assessment writing and scoring, with a view to those staff cascading to other colleagues.
Governor assessment training
This short workshop will provide an overview of assessment policy and practices, so that governors are confident in being are able to hold their institution to account and know the questions they should be asking.