CIEA lecture series 2019
The CIEA lecture series 2019 opens on 16 January when Isabel Nisbet will be speaking on the subject of 'Public examinations as an instrument of social policy'.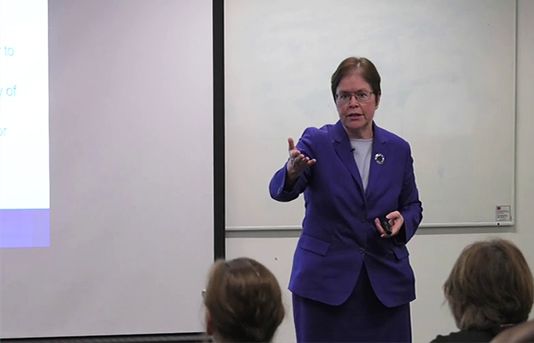 Summary
Education provides an opportunity and a means to bring about desirable changes in society, such as reducing inequality, promoting national values and equipping young people with the knowledge and skills the country needs. But it is notoriously difficult to change education itself, as so many people have fingers in the educational pie.
For policy-makers at national level, education is a classic case of "sticky levers" – problems in making change happen. One option is to use national exams and tests (such as GCSEs, A levels and national curriculum tests) as tools to bring about improvement. This can involve changing the constructs of national exams, changing the modes/methods of assessment used and linking accountability of schools and teachers to assessment outcomes. Changed exams can be seen as providing an "assessment pull" to influence the content and style of classroom teaching.
At this lecture we shall be appointed Secretary of State for the day and consider how and whether we should change national examinations or tests to achieve our social policy objectives. The lecture will look at some positive and negative experiences and conclude with some dos and don'ts for Ministers.
About the speaker
Isabel Nisbet is highly experienced in the regulation of assessment and qualifications and in international comparisons of educational policy-making. She was the first CEO of Ofqual, the regulator of exams and qualifications in England, after which she worked for three years in SE Asia for Cambridge International Examinations, based in Singapore. She now holds an honorary academic post at the Faculty of Education in the University of Cambridge and she serves on the Boards of Qualifications Wales, the regulator of exams and qualifications in Wales, and of two universities, including the University of Hertfordshire.
Details
Date: Wednesday 16 January 2018
Time: 17:30-18:30
Admission: If you would like to attend this free event please email the CIEA to register your interest.
Location
University of Hertfordshire, De Havilland campus AL10 9EU