Community for coaches and mentors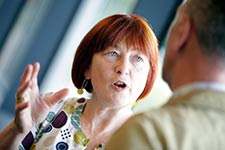 As part of the School of Education, the University of Hertfordshire Community for Coaches and Mentors (CCM) connects and inspires thinkers,leaders, and organisations.
The CCM offers the opportunity to:
connect with other professionals and their ideas.
reflect on workplace relationships, leadership and practice.
engage and collaborate in current research.
create opportunities for fresh thinking and insight.
To support this community of practitioners, the CCM provides a community which facilitates professional conversations, the exchange of knowledge and the capacity to reflect on day-to-day practice.
About us
The CCM was founded in 2007 and was initially established to bring together existing pockets of expertise in coaching and mentoring. By co-ordinating and bringing together these different strands into one place, the community was able to facilitate the expansion of coaching and mentoring across the University and beyond.
The CCM now develops talent and encourages professionals to share best practice. Today, the CCM acts as a networking hub with a wide membership drawn from local, national and international organisations as well as the private, voluntary and public sectors.
What do we offer?
As a University of Hertfordshire hub, the CCM can signpost professionals to the range of courses, workshops, research and consultancy relating to coaching and mentoring available throughout the university.
The CCM is a member of the European, Mentoring and Coaching Council (EMCC) and participants on CCM courses are able to access the EMCC online journal.
University of Hertfordshire-wide projects
Research projects:
Mentorship for health research training fellows – clinical academic training (CAT) for nurses, midwives and allied health professions and healthcare scientist (HCS) programmes.
Exploring strategies for improving workplace performance through peer coaching (Funder: Leadership Foundation for Higher Education)
'Better Together' – exploring strategies for establishing an effective and sustainable peer coaching process for students in Higher Education (Funder: University of Hertfordshire Learning and Teaching Institute)
Coaching staff and students to work collaboratively in Higher Education (Funder: Higher Education Academy).
Consultancy:
Provision of workshops for teachers entitled: 'Trusting Relationships as a Secure Foundation for Learning' Hertfordshire Free School, Hatfield.
Advisory role in developing a research staff mentoring scheme at the University of Hertfordshire.
One to one coaching for organisational leaders (examples include: Hertfordshire Local Authority).
Workshops:
We have provided workshops covering a wide variety of topics. Recently, they have covered the following themes:
solutions-focused coaching
NLP in coaching
delivering an e-mentoring programme, The Enneagram
starting out as a coach
neuroscience and its application to coaching
coaching through dilemma and paradox
constructive coaching for change
introduction to MBTI and its use in coaching
leadership through transition coaching for collaborative action
Short courses:
Leading through Coaching (University of Hertfordshire accredited) - Find out more about this short course.
Selected publications related to coaching and mentoring (University wide):
Goossens , Y , Evans , J & Jefferies , A 2009 , ' The student-staff mentoring project at the University of Hertfordshire', Procs of World Conf on Educational Multimedia, Hypermedia and Telecommunications vol.2009 , pp. 366-374 .
Graham, S. et al (2012) Discover – Deepen – Do: a 3D pedagogical approach for developing Newly Qualified Teachers as professional learners. Australian Journal of Teacher Education Vol 37 issue 9 p 43-66. See: http://ro.ecu.edu.au/ajte/vol37/iss9/3/
Graham, S. (2012) 'Enhancing Professional Development Conversations' (book chapter) in School-based Teacher Training: A Handbook for Tutors and Mentors (edited by White, E & Jarvis, J). London Sage.
Larvor, B., Lippitt, J. and Weston, K. (2011) Critical Friendships among beginning philosophers. Discourse. Vol. 10 No. 2. Pages 111-146.
Turner , D & Nelson , L 2009 , ' Graduate perceptions of a UK university based coach education programme, and impacts on development and employability' , International Journal of Coaching Science , vol 3 , no. 2 , pp. 3-28. Woods , P Woods, G J and Cowie, M 2009, 'Tears, laughter, camaraderie' : professional development for headteachers' School Leadership and Management, vol 29 , no. 3 , pp. 83-104 .
Recent Conferences:
2011 National Conference for Coaching and Leadership in Education in partnership with Prospects/North Star Coaching 'Coaching in Education: National Conference Promoting Leadership in Education in a Changing World'.
2011 4th Annual University of Hertfordshire Centre for Coaching & Mentoring Conference (CCM) 'Changing Conversations: fresh thinking, action, results'.
To find out more about the Community of Coaches and Mentors and and become a member, please email CEL@herts.ac.uk.