Suzero's war on sugar; healthy snack bar entrepreneurs push for accelerated growth in 2020
In 2014, Sports Science student Ollie Vagg made a bet with course friend Sam Marchant that he could not give up sugar for a month during a lecture at the University of Hertfordshire. Keen to prove his friend wrong, Sam took the bet, however, was shocked at how many snack bars claim they are 'healthy' yet are laden in sugar. This simply spurred Sam on, and he started to make his own bars from scratch at home. The idea of Suzero was born. The benefits of removing sugar from his diet were clear; Sam lost weight, was sleeping better and had more energy. Despite Sam and Ollie enjoying the bars, they admit that not everyone liked the taste initially, so the friends spent the next 13 months fine-tuning the recipe.
Once they were happier with the taste, Sam and Ollie were keen to start commercialising Suzero. Sam began to sell the bars at his hockey club in February 2017. Despite it being a small-scale launch with basic packaging and no marketing, 3,000 of the low sugar snack bars were sold in 5 months. This gave them confidence that they were on to something good, but as student entrepreneurs they needed support with setting up their first business.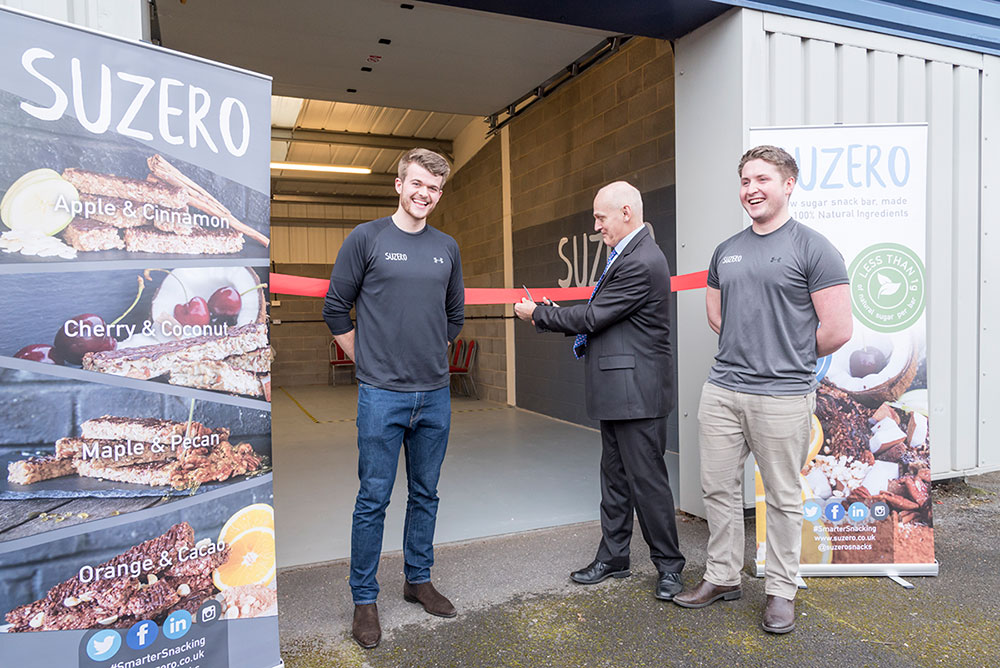 Sam consulted with UH's Enterprise team and they benefitted from a £3,000 development grant as well as involvement in events, competitions and a 3-day workshop that offered invaluable advice from guest speakers who had been through a similar process, on production and online sales. Once they had graduated, Sam and Ollie became members of the University's Business Incubator, giving them access to office space and support from like-minded entrepreneurs, as well as the ability to connect with academics and professionals to further enhance the brand and product range.
This support enabled Sam and Ollie to open Suzero's first factory in Peterborough, which Vice-Chancellor Professor Quintin McKellar cut the ribbon for in March 2018. This space allows the business to scale, with capacity to produce 6,000-10,000 bars a day. They began to sell their health bars on Amazon UK, which has experienced huge demand, alongside other retailers and stockists they had already secured, including yoga studios and gyms.
Sam and Ollie's success to date has been cemented by multiple award wins, including 'FLARE Ignite' in 2017, 'Young Entrepreneurs' at Biz4Biz in 2018 and the Lord Lieutenant of Hertfordshire's Entrepreneur Challenge at Hertfordshire's County Show in 2019. Determined to continue with this momentum, 2020 is set to be a big year for Suzero, with plans to accelerate growth into major grocery retailers and wholesalers, alongside the launch of their own ecommerce platform.
The University of Hertfordshire has played a key part in the growth of our low sugar snack bar brand, Suzero. Having founded Suzero while studying at the University of Hertfordshire, we have fully engaged with all the SME resources offered by the University throughout our journey thus far. Engaging with enterprise events run by the University has given us a greater understanding of how to scale Suzero, how to overcome challenges within our market sector and given us access to the wide range of resources available at the University.