Conferences
<!-owl.js-->

COVID-Secure
This has been a trying time and we understand that organisers and delegates may feel uneasy about the return to public spaces and how these areas are managed. It is the responsibility of all of us to act in a covid-secure way. Please rest assured that we are taking our COVID-19 response seriously and working hard to support our organisers in managing physical distancing, providing hand sanitiser and hand washing facilities and sharing risk assessments. UH Venues has received a Good to Go kitemark from Visit England.
At present (22 September 2020) we can support business and educated related meetings and events for up to 30 delegates including organisers. Our Fielder Centre is operating under 2m physical distancing unless organisers and the venue can agree a sufficient 1m+ distancing risk assessment plan. This 30-person limit will be in place until government guidance changes.
A copy of our COVID-Secure document can be found here.
To discuss the COVID-security of your event please get in touch with us today.
<!-owl.js-->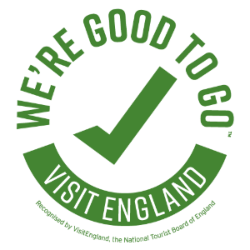 Conferences
Located at the University of Hertfordshire, UH Venues provides a dedicated event service which can match our range of facilities to your requirements.
Our commitment to quality ensures the success of your event no matter what the size. A residential four-day event for 1600 or a small team meeting for as few as ten, UH Venues has the facilities to accommodate you.
We have an array of venues offering a range of excellent facilities to suit your corporate and personal requirements. Please enquire at venues@herts.ac.uk or phone +44 (0) 1707 285032 for more details.
Fielder Centre
Over the last twenty years the Fielder Centre has gained an excellent reputation for offering high quality, tailored customer service to a range of meeting and conference delegates. We can provide:
Meeting room space with capacity for up to 300 delegates
Onsite catering using fresh and seasonal produce
Access to an audio-visual technician
Over 200 free onsite parking spaces
Free Wi-Fi facilities
< Our competitive Day Delegate Rates (DDR) with no hidden extras makes our venue ideal for both small local businesses or large corporations and all the services in between. Call us to talk through your booking today on +44 (0) 01707 284841 or email fieldercentre@herts.ac.uk.
Filming locations
Interesting architecture, professional locations and unique spaces fill our sites at the University of Hertfordshire. Some of the more unique locations include:
Mock crown court room
Mock pharmacy
Mock hospital ward
Large auditorium
Observatory
de Havilland
de Havilland campus is host to prestigious conferences, exhibitions, and sport events with-on-site accommodation also available.
Facilities range from small syndicate and seminar rooms up to the impressive 440 seat Weston Auditorium.
All areas are equipped with the latest state of the art audio visual equipment and a team of technicians on hand to support your event.
The Weston Auditorium
Our principal performing arts venue is The Weston Auditorium.
With its excellent technical facilities and 440 seating capacity, the visually stunning auditorium stages high quality performing arts events throughout the year, including:
music events including performances by the de Havilland Philharmonic Orchestra.
theatre and performing arts events.
film and TV events.
College Lane
College Lane Campus holds a plethora of places to meet and network during a conference or event. The original campus of the University of Hertfordshire, College Lane offers an extensive array of both traditional and contemporary options for any event, from day meetings to exhibitions.
Classroom facilities with state-of-the-art audio-visual equipment and flexible layouts are available across the campus, as well as bright and open spaces for networking and communal purposes.
Our College Lane campus currently boasts newly refurbished accommodation with Wi-Fi access throughout and parking included in your package. Exhibition spaces to suit an array of requirements and social spaces for delegates are also available.
Find out more