Brand guidelines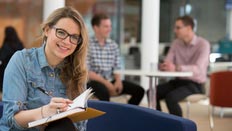 The University's' brand guidelines are designed to give you the basic building blocks of the University of Hertfordshire identity. Like a consumer brand, our visual identity is an important part of our organisation. It represents the outward 'face' of the University and is a key tool in helping us to attract the best staff, students and funding.
View the full guidelines
Access our complete brand guidelines on HertsHub
Agencies
Contact Marketing and Communications if you are an agency wanting access to our brand guidelines.