Hertfordshire Mediation Centre
Resolving your disputes with our specialist mediation centre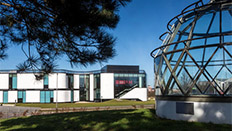 The Hertfordshire Mediation Centre forms part of the Hertfordshire Law School and is housed in a purpose-built, dedicated facility in our Law Court Building. We offer a range of mediation services to individuals and businesses from the local community and beyond. The Centre comprises the main dispute resolution room and 5 break-out meeting rooms which provide an ideal, professional location to resolve disputes.
The Centre deals with all civil disputes which includes those relating to:
Consumer rights
Business contracts
Property rights, including boundaries and rights of way
Landlord and tenant obligations
Building and construction matters
Personal injury
The administration of estates
In addition, it also helps parties in a workplace dispute to reach a settlement.
The Centre also has an educational dimension providing continuing professional development training to mediators and the ability for trainee mediators to observe live mediations. Students of the School can gain an insight into how mediation works and start to develop practical skills in this area of growing importance. In the near future we will also be offering a range of postgraduate courses which will enable you to become a professionally accredited mediator.
Find out more about our services and our panel of highly experienced mediators.