School Direct entry requirements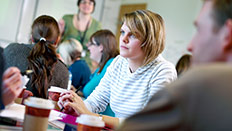 Applicants for School Direct must have the following educational qualifications:
An honours degree (2.1 or above preferred; 2.2 accepted with other relevant experience or higher qualification) or equivalent. For secondary trainees at least 50% must be in the teaching subject.
GCSE Grade 4 or above in English and mathematics (Grade C or above under the old grading structure).
Primary trainees must also have either science/biology/chemistry/physics/additional science or applied science GCSE Grade 4 or above (Grade C or above under the old grading structure).
Original certificates will need to be shown at interview.
Equivalent qualifications
The City and Guilds Level 2 qualifications in numeracy and English are not deemed as equivalent to GCSE grade 4 or above for entry into initial teacher training.

The University of Hertfordshire does not accept equivalency tests in the place of GCSE qualifications.
International qualifications
If the qualifications have been taken abroad then these need to be verified by NARIC before applying for the programme. Visit NARIC for more information or call +44(0)870 990 4088.
Please send a copy of NARIC and your transcript for the degree or GCSE qualifications to David Ingledew, secondary (d.ingledew@herts.ac.uk) or Julia Mackintosh, primary (J.Mackintosh@herts.ac.uk) to be checked before your interview.
Degrees
For anyone currently working on a first degree it will be necessary to show evidence of the end date and of grades allocated at the time of any interview. Degrees must be successfully completed before starting the programme and any offers of places will be provisional on that outcome.
Other experience
The School Direct (salaried) programme is directed at applicants with three years, or more, career experience.
School experience
Before applying for the programme, all applicants need to have spent a minimum of five days gaining school experience relevant to the intended age range for training. This can be on a voluntary, observational basis.

Many applicants will have much more school experience than this, but all applicants will be expected to draw on their experience at interview.

Where applicants for secondary places are applying to schools they have attended the five days experience must be gained in a contrasting secondary school setting.
At interview applicants will also need to show some knowledge of the school curriculum as well as the Teachers' Standards.
Applicants need to complete pre-interview tasks that will help them to focus on the role of the teacher in children's learning.
Download forms detailing these tasks to bring to the interview:
Skills tests
Skills test in literacy and numeracy need to be passed by 31 August 2018.