Applicant days and interview days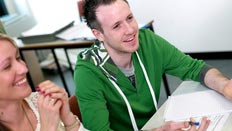 Depending on your chosen course of study, you may be invited to an interview prior to receiving an offer of a place of study, or to attend an Applicant Day after receiving your offer.
Interviews
Once the date has been confirmed, you will receive information to help you prepare. You can also find tips on how to prepare for an interview or audition on the UCAS website.
Applicant days
Our Applicant days take place on;
Saturday 24 February
Saturday 21 April
Upon receiving an offer of a place to study, you will also receive an email with information on how to book your place for an Applicant Day. Once you've booked your place, you will be sent further information about the format of the day.
A full programme for the day will be sent in advance
If you have applied and not received an invitation, please contact opendays@herts.ac.uk with your full name and course