Joint Honours flare winners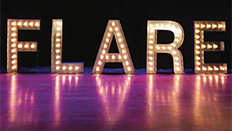 flare is the University of Hertfordshire's annual business start-up competition which supports and encourages students and alumni to launch and develop new innovative businesses.
The competition offers our budding entrepreneurs support and training to help bring their ideas to life.
Joint Honours students regularly feature as winners and finalists in the flare competition.
flare winners
Ibrahim Fagge
Fittfind - Best Growth Business
flare winner - Best Growth Business
I'm honoured to have been awarded the Best Growth Business prize. This is an incredible achievement, and getting to this stage has been challenging considering the amazing competition I was up against. The flare award will now help to fund Fittfind's launch at the 'LA fit expo', a great stepping stone for the brand.
Course studied

flare finalists
Indrit Kotaj
flare proposal
The blue tooth controlled portable air conditioning unit for your car.
Life changing! Being part of the flare 2017 competition has changed my view of the business world. Thanks to the amazing help I received from the enterprise team, I went into the finals stress free.
Course studied

Find out more about flare
Visit the flare website for more information on the competition and how you can take part.