Food security
Feeding the future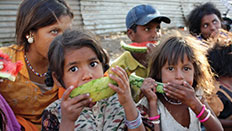 The world is on the brink of a global food crisis. With the population set to soar to at least nine billion over the next 35 years, food production will need to increase by 70% to cope with demands.
The University of Hertfordshire is investing in research and development today to ensure food sustainability for the future. Your donation can help fund research into food security.
Find out more about our Feed the World campaign.
Secure food…
In partnership with the Royal Veterinary College, Rothamsted Research, and Oaklands College, we've established a Centre for Agriculture, Food and Environmental Management.
The Centre addresses crucial issues, such as:
safe, responsible and sustainable sourcing of crops and livestock.
food production processes from farm and field to retailer and restaurant.
… Secure world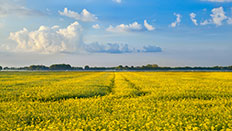 Supporting the University's Feed the World campaign will enable you to play a vital role in shaping the development of UK and global food production, providing for future generations and helping to prevent world hunger.
Your support today will therefore secure the world for future generations.
Our focus and expertise includes:
Crop protection: Developing environmentally friendly ways to protect food crops from deadly diseases and the adverse impacts of climate change.
Sustainable food systems: How we can provide sustainable school and hospital food that is also nutritionally balanced.
Water management: Investigating irrigation and water harvesting techniques across the globe, as well as a focus on drinking water quality and usage in the UK.
Help us make it happen
Support the University of Hertfordshire's Feed the World campaign
Please contact Harriet Bayliss, Head of Development and Alumni Relations on +44(0)1707 281273 for more information about any of the University's fundraising activities or legacy giving.