Robotics in Therapy
Robotics in Therapy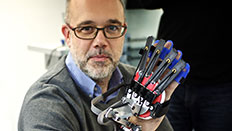 With 1 in every 100 children in the UK having autism, rising numbers of dementia cases worldwide, and by 2060 an estimated 30% of Europeans being over the age of 60 compared with 17% in 2010, there is a growing problem of finding enough trained therapists and carers to keep up with demand.
The University of Hertfordshire is investing in research and development on the use of robots in care and therapy, to secure the future of healthcare. Your donation can help fund research using robotics in therapy.
Creating today…
The University of Hertfordshire's Adaptive Systems Research Group focuses its work on artificial life and rehabilitation and assistive robotics, with expertise in neurorehabilitation robots, robot-assisted play, and socially assistive robots. The University's application of such robotic technology in therapy impacts upon a wide range of people with differing needs, enabling them to lead more independent lives.
… Developing tomorrow
Supporting the University's Robotics in Therapy campaign will enable innovative healthcare solutions to be developed, securing the care and therapy for future generations. Our priority projects include:
KASPAR: A child-sized, socially-interactive robot that enhances the social and educational development of children with autism, enabling them to fulfil their true potential.
Robotic stroke rehabilitation glove: A glove that stroke sufferers can use in their own home to support rehabilitation and personal independence in receiving therapies.
Diabetes Robot: A robot programmed to display the symptoms of diabetes to teach young children recently diagnosed with diabetes how to manage their condition themselves. More information on the BBC news channel.
Help us make it happen
Support the University of Hertfordshire's Robotics in Therapy campaign
Please contact Harriet Bayliss, Head of Development and Alumni Relations, on +44 (0)1707 281273 for more information about any of the University's fundraising activities or legacy giving.