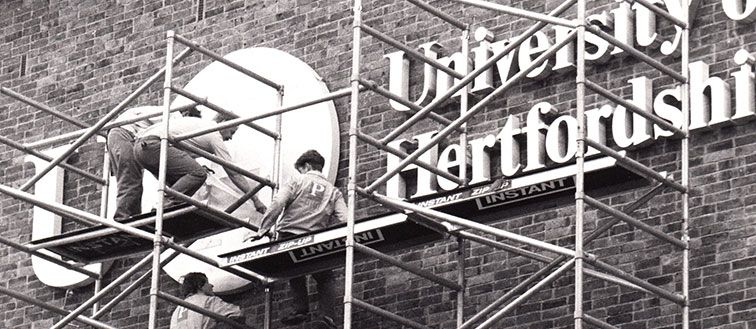 1992
On Monday 29 June 1992 we shed the name of Hatfield Polytechnic and officially become the University of Hertfordshire.
Although there are some initial objections to the disappearance of the word 'Hatfield' from our title, our new name shows that we are truly a Hertfordshire county University. With campuses at Watford and Hertford as well as Hatfield, the University spans the county, east to west.
We set up an Associate College network with our colleagues in further education at:
Hertford Regional College
North Hertfordshire College
Oaklands College
West Herts College
The new University now have an education presence in every corner of Hertfordshire. Later this year we merge with the St Albans-based Hertfordshire College of Art and Design.
We have over 9,000 students and a turnover of £48 million.
Previous name changes
1969 - Hatfield College of Technology is designated as Hatfield Polytechnic.
1960 - Hatfield Technical College is renamed Hatfield College of Technology.
1952 - We open as Hatfield Technical College. 1,738 students have enrolled to study with us.