Our Donors
On this page we will showcase just one of the many donors that support the University of Hertfordshire, refreshing regularly to illustrate the range of supporters the University has. Our current donor profile is of Martin Lawrence.
Martin Lawrence
Background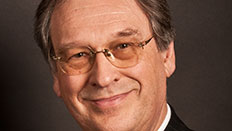 Martin completed a MEd at Hatfield Polytechnic in 1988. He was a school governor for 25 years and member of Interim Executive Boards. On retirement he became the lead associate for Teach First's Governor Impact Programme and a director of Governance, Leadership and Management.
He is currently a trustee for the charity 'Governors for Schools' (SGOSS), which recruits highly skilled school governors and promotes outstanding governance.
Why the University of Hertfordshire?
'Hatfield Polytechnic provided the academic rigour for me to develop my experience as a senior manager in schools and subsequently in a local authority. It gave me the confidence to work with others to support improvements in teaching and governance.
'The quality of academic tutoring and support, motivated me to organise my time and achieve a distinction, at the same time as being senior manager in a school.
'I feel a deep sense of gratitude to the University of Hertfordshire, as my course was the turning point in my career and has encouraged me to make a national contribution to schools, playing a role in educational charities and becoming a philanthropic supporter of universities.
'I recognise that studying at the University of Hertfordshire can lead to transforming lives and life chances and benefits wider society.'
Supporting the University
'I am keen to support financially students experiencing hardship, who wish to study abroad or are undertaking research degrees. I was involved in the establishment of the Chancellor's Fund at the University of Northampton which supports the same objects.
'I am an Honorary Fellow at Northampton and a member of the Court. I was introduced to regular giving at the University of Hertfordshire through a telephone call by an undergraduate and was keen to respond.
'I am proud to be associated with the University of Hertfordshire through regular giving. I was delighted to be made an associate of the University at the Diamond Jubilee celebrations. I get pleasure from supporting the fundraising of the University and will continue to do so.'
Words of advice
'I would ask potential donors to look back on their good fortune of being educated at the University of Hertfordshire and its previous institutions. Consider the positive impact it has had on their lives, academically, culturally and socially.
'Regular giving is an easy and efficient way to give something back to the University and its current students, ensuring that others have the same opportunities that we enjoyed.'
Inspired
If Martin's story has inspired you to support the University, please contact Harriet Bayliss, Head of Development and Alumni Relations on +44(0)1707 281273 for more information about any of the University's fundraising activities.