We've gained Gold for our teaching excellence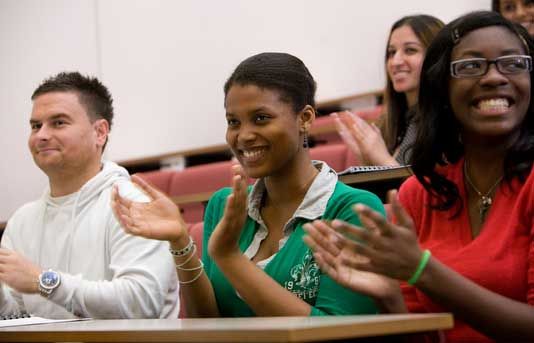 6 June 2018
We've achieved the top gold ranking in the Government's Teaching Excellence Framework (TEF) 2018.
The TEF award is the Government's assessment of teaching excellence in higher education; ranking institutions as bronze, silver or gold. The gold award recognises the outstanding teaching at the University and marks an uplift on last year's submission (TEF 2017), in which the University was ranked silver. The gold award is valid for up to three years.
Professor Quintin McKellar, Vice-Chancellor at the University of Hertfordshire, said: 'I am extremely proud that the University of Hertfordshire has been awarded gold in the Teaching Excellence Framework 2018.
'This award recognises our students' excellent progression rates to employment and that students from all backgrounds achieve consistently outstanding outcomes. Our success is testament to the commitment of my colleagues to transform our students' lives through expert teaching and a challenging, inclusive curriculum in a business-facing, research rich environment.'
Teaching expertise sits at the heart of the University of Hertfordshire; all course curricula is informed by research, business and the professions and 79% of the University's academic staff hold Fellowships of the HEA (Higher Education Academy), compared to the sector average of 39%.
The TEF judging panel highlighted our commitment and success in:
Work-based learning, entrepreneurship and enterprise
Employability and transferable skills into the curriculum with co-curricular awards that lead to professionally accredited qualifications
A curriculum informed by research, business and the professions
A high level of investment in physical and digital resources, which are accessible to all students
The extensive widening participation agenda, with high quality support through personalised learning
Engagements with students as partners in teaching and learning, by offering extensive opportunities outside traditional learning environments
'partnership with students is core to everything we do'
Sal Jarvis, Pro Vice-Chancellor for Education and Student Experience at the University of Hertfordshire, said: 'At the University, partnership with students is core to everything we do. Our students and alumni work with us in the creation of new programmes, are active on our working groups and work alongside our staff in our Academic Schools to discuss ideas and develop new initiatives.
'This partnership approach ensures our students develop the knowledge, skills and attributes to succeed in business and the professions and has led to the University having the best graduate employment rate in the East of England for the last two years.'
The TEF is a national initiative, run by the government's Office for Students, that recognises and rewards excellent teaching in higher education. Higher Education Institutions (HEIs) participating in the TEF have been judged by a panel of individuals with expertise in learning and teaching from a range of different organisations. The key purpose of TEF is to give prospective students clearer information about teaching quality at various HEIs to help them make informed decisions about where they would like to study.