Student Harry Woodgate wins 2018 Student Design Award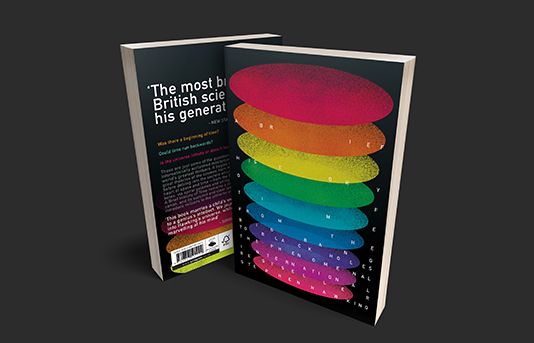 26 June 2018
Penguin Random House has announced second year Illustration student, Harry Woodgate, as the winner of the Adult Non-Fiction Cover Award for his cover of Stephen Hawking's A Brief History in Time.
The award, now in its twelfth year, aims to find the next generation of book cover designers by giving students the opportunity to experience real cover design briefs first-hand. This year, the winning students were selected from over 2,000 submissions. The winners will receive £1,000 cash prize and a work placement with Penguin Random House UK.
Harry said: 'It is so amazing to think that my work was chosen from so many entries, a lot of which were all absolutely brilliant too. I spoke to Penguin's Art Directors and their comments on the work I did were so wonderful to hear! I'm super excited to start my work placement with them and I'm sure it's going to be a great learning experience and an awesome opportunity to get a foot in the door of an industry I'd love to work in.
'For the process of designing the cover I tried out quite a few different ideas, and this one was actually just the result of messing around on Photoshop and not overthinking it. I think sometimes when you have too much of an idea beforehand it stops all the fun and creativity that allows good design to happen.'
Harry's achievements
Harry has had a phenomenally successful year. His achievements included reaching the longlist of The Book Illustration Competition 2018, organised by The Folio Society​, with his entry being featured on The Guardian website; being shortlisted for the Batsford Prize and winning a YCN Commendation for his work on the Street Feast brief.
Harry continued: 'I received 3rd place for my cover for To Kill A Mockingbird last year. It was quite a different design - more illustrative and with lots of hand lettering, so it was nice to do something in a completely contrasting style.
'The judges complimented the 'brave' use of typography this time - I think perhaps because I'm coming to this from an illustration standpoint rather than graphic design, there are certain rules or conventions that I'm not aware of. What comes across as unusual or 'brave' is actually just me approaching things as if it's a drawing rather than a piece of design, which makes for different outcomes. The feedback I got the first time I entered definitely helped me this time around, as I had a clearer idea of what they were looking for, and how to address the brief.'
Programme Leader for Graphic Design & Illustration, Nick Lovegrove, said: 'As well as being able to make visually stunning work, Harry is a fantastic Illustrator because he can pick apart a brief and get to the heart of what the client requires – without resorting to clichés. His quite incredible record of success in the highest-profile award schemes is testament to his hard work and dedication to his craft.'
Comments from the judges' included:
"I love the way Harry has taken a simple approach through repetition and layering to illustrate a very complex and multi-layered subject. I feel it works really well – the layered coloured discs, with subtle opacity and spacious type evoke a sense of infinite space and possibility that definitely draws the eye in. I find the spectrum of colour on black feels joyful and brings a "lightness" to this sometimes-weighty subject matter." – Grace Winteringham (Co-founder, Patternity)
"Congratulations on your design. I think the colours make the cover eye-catching and approachable. The viewer's eye is drawn to the playful typography. It is a brave cover." –Suzanne Dean (Art Director, Vintage)
"I loved this design from the first time I saw it. Very abstract with a fantastic colour palette. A worthy winner." – Jason Smith (Art Director, Cornerstone)
Congratulations to fellow second year Illustration student Stephen Young also, who took home third place.