Santander awards £100,000 grant to support our Enterprise Programme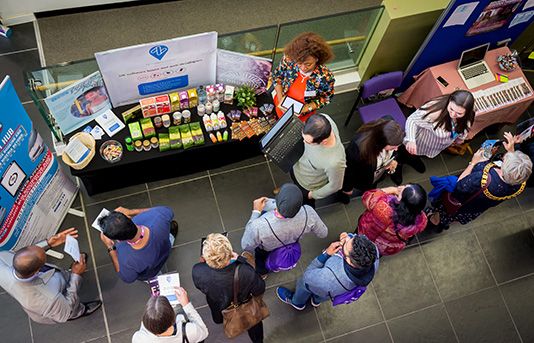 13 June 2018
We've been awarded a grant of £100,000 as part of Santander University's Enterprise and Entrepreneurship Fund.
We will use the funds to help expand its current business and enterprise support programme to include a series of boot camps and programmes aimed at increasing the likelihood of success for young start-up businesses and entrepreneurs. We are one of 15 institutions across the UK to receive a grant from the fund, which was launched to celebrate Santander Universities' 10th anniversary in the UK.
Expansion of Enterprise Programme
The expansion of our Enterprise Programme will involve leadership and development programmes, which will help refine each student's personal leadership skills. It will also contribute to the refurbishment of a graduate incubator centre, which aims to offer over 200 students and graduates and more than 20 businesses a space to grow their business. The grant will also establish a new fund which will offer grants to students, graduates, and local businesses to help develop their ventures.
Santander Universities Enterprise and Entrepreneurship Fund is a £1 million fund designed to support universities in delivering large-scale projects benefiting over 5,000 people directly and driving economic benefits across the UK. The key objectives of the fund include helping to start, run or grow a business, developing and promoting entrepreneurial skills, culture and mindsets, championing innovation within businesses and delivering economic, social or employment benefits to the local and national economies.
Professor Quintin McKellar CBE, Vice-Chancellor of the University of Hertfordshire, commented: 'We are delighted to have been awarded the £100,000 grant from Santander. This funding will support the development and promotion of entrepreneurship skills at the University, not only increasing the numbers of people who are reached by the Enterprise Programme, but also increasing the depth of engagement with all its participants. The grant will also enable the University to support the local business community to grow and develop their enterprising ideas. The funding from Santander is invaluable for this and we are proud to be able to offer support to an increased cohort of students and businesses.'
'enable even more enterprises to thrive'
Matt Hutnell, Director at Santander Universities, commented: 'We are very pleased to award this grant to the University of Hertfordshire, which will support such an increased number of students, graduates and local businesses and will in turn enable even more enterprises to thrive.'
Santander Universities was first created in Spain in 1996 by Emilio Botín, who recognised that universities play an important role in society. He believed that Santander should support these institutions through the provision of scholarships, mobility awards, entrepreneurship funding and much more.
Santander Universities now has over 1,200 university partners spanning across 20 countries. In 2007, Santander Universities was launched in the UK and now has partnerships with over 80 universities, providing over £10m of funding in 2017 to support university staff and students.
Visit our web pages to find out how we support our enterprising students and local businesses
For more information about Santander Universities please visit: https://www.santander.co.uk/uk/santander-universities