Our robots have landed in local schools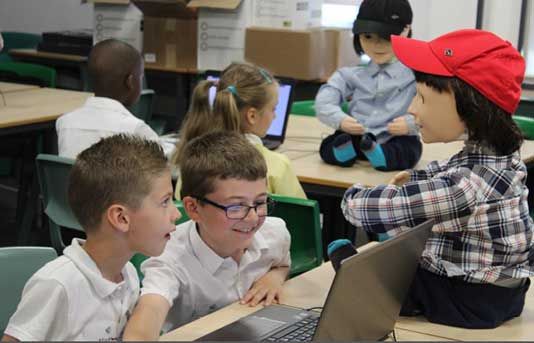 28 June 2018
To celebrate UK Robotics Week 2018 (25-29 June) researchers from the University of Hertfordshire's Adaptive Systems Research Group are giving local primary and secondary school pupils the chance to experiment first-hand with a number of innovative robots.
The University of Hertfordshire's Robotics Crash Course, designed to inspire children about the possibilities of a career in Computer Science and Robotics, is being delivered at two local schools throughout the week. The course covers all aspects of robotics, from how robots are designed (CAD design) and created (including 3D printing) to how they are programmed and the reasons for developing robots that have Artificial Intelligence.
Robots involved in the tutorials and hands-on sessions include Kaspar, a humanoid robot created to improve the lives of children with autism, Pepper, a humanoid robot designed to be a day-to-day companion and Scampi, a robot that looks like a spider with a couple of legs missing!
The opportunity to interact and programme our robots
Dr Luke Wood, Research Fellow in Human-Robot Interaction at the University of Hertfordshire said: 'We are delighted to be able to run these events giving local school pupils the opportunity to interact and programme our robots and to learn more about social robotics. The University of Hertfordshire is committed to education outreach, we want to inspire the next generation of computer scientists and make children see that Robotics is an accessible, exciting career.'
The week-long events are taking place at Stanborough Secondary School, a specialist maths and computing academy in Welwyn Garden City and Hatfield Community Free School, a large primary school in Hatfield.
At Stanborough School, University researchers will be guiding A-level Computing students on how to programme the Pepper robot. Students will give Pepper customised emotions created and designed by themselves and learn about the practical applications and challenges of programming state-of-the-art robots.
The future of STEM
Sahbi Benzid, Curriculum Leader:IT & Computing, Stanborough School said: 'We are pleased that our students are going to have the opportunity to work with the University of Hertfordshire to explore the practical uses of robotics in our everyday lives. We hope it will inspire more students to go into STEM subjects in the future and go on to becoming pioneers of the growing Robotics field.'
At Hatfield Free Community School, the programme is focused on Years 3-5 (age seven to ten year olds) and students will have the opportunity to programme Kaspar using Scratch, which is software designed to teach young people how to programme their own interactive games and animations. The students will also have a lesson on CAD design using the 3D modeling software, Sketchup.
Dr Sue Attard, Principal at Hatfield Community Free School said: "We are honoured to have been selected to work with the University of Hertfordshire to understand the programming of social robots and have insight into the future technologies that will be valuable across the world in the lives of our present children."
For more information on the University of Hertfordshire's Adaptive Systems Research Group, please visit the link provided.