New Formula Student 2018 racing car unveiled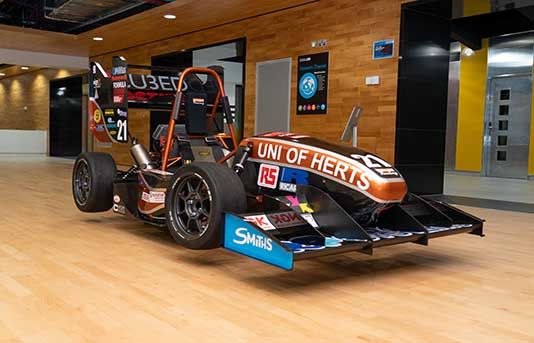 14 June 2018
The University of Hertfordshire's racing team UH Racing - the most successful UK Formula Student team in the UK - has unveiled its 2018 racing car.
It is hoped the car, titled UH21, will race to success both nationally and internationally at Formula Student UK (5 - 11 July) and Formula Student Czech Republic (31 July – 4 August).
Launched on the 12 June by a team of twenty dedicated Automotive, Aerospace and Electronic engineering students, UH21 is a single seat race car which features numerous new technologies and an innovative design. This year the car's construction has focused on 'evolution over revolution' with the team's primary goal to make the car 5% lighter in weight than models built in previous years. This led to significant structural changes to the wheel rim and wiring loom as well as the paddle shift mechanism.
'I am incredibly proud of what the team has produced this year'
Elliott Cook, University of Hertfordshire's Formula Student Team Leader and MEng Automotive Engineering and Motorsport student said: 'I am incredibly proud of what the team has produced this year. Everyone has worked tirelessly in the lab to prepare the car for success, our sights are firmly set on a top ten, possibly a top three position in the UK event at Silverstone this July.
'Among key areas for the 2018 car is weight reduction in just about every area. As a result, we are introducing a higher percentage of composites, including – for the first time – a pre-preg carbon fibre plenum, which is part of the intake system. Although the total car weight will be reduced to around 200kg, we will still be generating around 400bhp per tonne, which is plenty enough!
'UH Racing was one of the main reasons I was attracted to study at the University of Hertfordshire, the team has consistently been one to watch at Silverstone. Through our work on UH21 the team has had the opportunity to build relationships with suppliers and companies within the industry and gain the knowledge and skills fundamental to succeeding in our chosen careers.'
UH Racing
UH Racing was founded in 1997 by University of Hertfordshire students, and the team has competed in every IMechE Formula Student event since its inception in 1998. Over the last 21 years, the team has entered Formula Student competitions world-wide with cutting edge petrol, electric and hydrogen powered cars and won countless awards.
To find out more about studying Engineering at the University of Hertfordshire please visit the link provided.