MP Bim Afolami addresses the Apprenticeships Work conference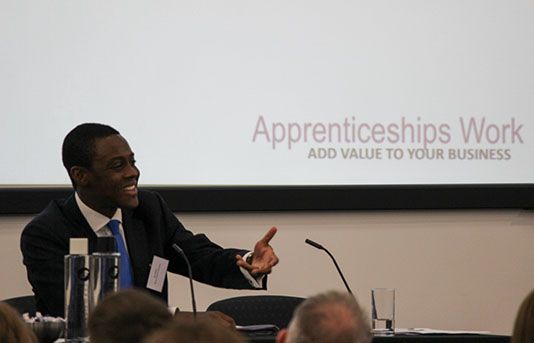 13 June 2018
The Apprenticeships Work conference, organised by the University of Hertfordshire, Hertfordshire Local Enterprise Partnership and the Hertfordshire Growth Hub took place on Monday 11th June and was attended by around 65 local employers and training providers.
Apprenticeships are key to driving the future productivity and prosperity of Hertfordshire and are a vital way to build strong, skilled workforces, the MP for Hitchin and Harpenden told employers at an apprenticeship conference.
Delegates heard how the University of Hertfordshire is working in partnerships with FE Colleges and private training providers to develop apprenticeship 'pathways'. These provide a seamless transition from when an apprentice first joins a business through to degree level apprenticeships.
Mr Afolami said: 'Hertfordshire is the county of opportunity and we must develop a regionalised economy outside of M25 with a highly skilled workforce. In order to increase the number of apprenticeships, businesses need to spread the word about the good quality skills apprentices can bring.
'I am MP for Hitchin and Harpenden, an affluent area, where I have found some cultural resistance to apprenticeships. Schools can also experience this when talking to parents, their customers, and we must help shift this view.'
'The University is passionate about apprenticeships'
Julie Newlan, Pro-Vice Chancellor at the University of Hertfordshire, said its degree apprenticeship programme was a vital component of its offer to businesses.
'The university is passionate about apprenticeships, both as an education provider and as one of Hertfordshire's largest employers. This has strengthened our understanding and enabled us to act as a critical friend to other employers.
'Our degree apprenticeship programme has undergone rapid expansion in the past year. We now run 13 different programmes and anticipate enrolling 200 apprentices this September. We do not work in isolation but work alongside other education providers to enable employees to progress and develop. It is this joined up approach in Hertfordshire that is paramount to its success.'
Hertfordshire LEP Deputy Chair Adrian Hawkins said: 'Investing in people and skills is the foundation of our Strategic Economic Plan for Hertfordshire and is one of the main productivity drivers for the Local Industrial Strategy.
'The county can be justifiably proud of the apprenticeship programmes it has to offer. We are keen to encourage more employers to invest in new talent as well as helping its existing employees to progress and realise their full potential. This, in turn, will maximise the impact on their business.'
Cathy Strachan, HR Manager – Learning and Development, MBDA, said apprenticeships are 'absolutely necessary' to build and retain the skills they need and are seen as a 'long term investment', with apprentices 'contributing to the business from day one'. Will Dodwell, who started his apprenticeship with MBDA in September, said: 'I am 19 and I work on a £11m programme.'
'A degree apprenticeship gives young people a start'
Malcolm Mackenzie, set up Hello Flexibles, a plastic packaging supplier, in 2014. After hearing from a young couple who were struggling to start out with £70k of student debt, Malcolm told the audience he was keen to do something to help invest in youth. After approaching Hertfordshire Growth Hub, he was signposted to the University of Hertfordshire where he found out about degree apprenticeships, leading him to taking on his first apprentice Charlie Luff.
'We had six or seven highly employable young people apply for that one degree apprenticeship. My question is, what happened to the rest of them who applied? A degree apprenticeship gives young people a start, four years' work experience, a degree and no debt. And from an employer's point of view, apprentices deliver business today."
Apprentice Charlie Luff said: 'This industry experience will put me ahead of other graduates, while earning a salary and getting my degree paid for, as well as seeing first-hand how a small business grows.'
Anna Morrison, Director, Amazing Apprenticeships, encouraged employers to put social mobility on their agenda, and Charlotte Hughes, Chair, East of England Young Apprentice Ambassadors Network spoke about its mission to encourage more young people to consider apprenticeships as a viable and valued career path.
Employers are now being encouraged to pledge their support. A post-conference online resource pack giving details of training providers; UH apprenticeship prospectus and conference summary is available to view here.
About Hertfordshire Local Enterprise Partnership
Local Enterprise Partnerships (LEPs) are partnerships between local authorities and local businesses to support local economic growth. Thanks to our Strategic Economic Plan, we have secured £265.45m to date from the Local Growth Fund. The total expanded Growth Deal has the capacity to deliver 11,000 new jobs, 16,500 new homes and unlock £460m public and private investment by 2024/25. Increasing awareness of and take-up of apprenticeships is seen as critical to the successful delivery of the Hertfordshire Skills Strategy.
About Hertfordshire Growth Hub
The Hertfordshire Growth Hub is about unlocking potential and helping ambitious established local businesses thrive. Helping businesses in the county grow, innovate, create new jobs and strengthen the Hertfordshire economy. It's all about helping local SME's remove barriers to growth, plan for the future and achieve really meaningful sustainable success. Over the 2017/18 period, the Growth Hub supported 981 unique businesses and held 18 FREE interactive events. For more information visit www.hertsgrowthhub.com.