We've collaborated on the world premiere of Robert Graves play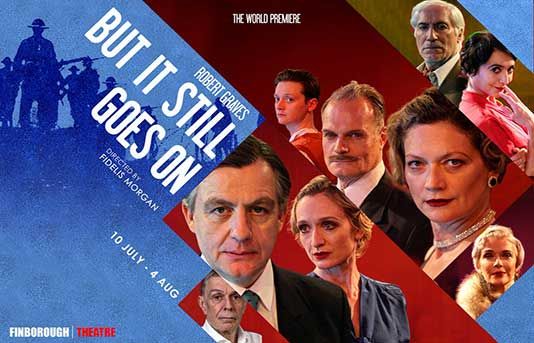 11 July 2018
A First World War play - But It Still Goes On - by poet and novelist Robert Graves, received its long-overdue world première on Tuesday 10 July, Finborough Theatre, London, produced by Dr Andrew Maunder, Head of English and Creative Writing at the University of Hertfordshire.
Written in 1929, the play, which has never previously been performed, depicts a generation left to confront who they really are, having survived the horrors of the First World War. However, they soon discover that family is just another battlefield that they are forced to overcome.
Research for the Centre for Everyday Lives in War
Dr Maunder first encountered the play whilst researching another more famous work, Journey's End by R.C. Sherriff (1928). But It Still Goes On was intended as a follow up to Sherriff's hit play but was rejected. The research was part of Dr Maunder's work for the Centre for Everyday Lives in War, based at the University of Hertfordshire. As one of five First World War engagement centres funded by the Arts and Humanities Research Council, it supports community research projects and encourages people from all walks of life to get involved in World War I research.
One such project - World War I Theatre – led by Dr Maunder, revives forgotten plays of the First World War, working with professional actors and directors, schools and local groups.
Dr Andrew Maunder said: 'I'm delighted to be working in partnership with the Finborough Theatre who have done a lot during the Centenary commemorations to re-introduce audiences to First World War drama.'
But It Still Goes On
Set in London in 1932, But It Still Goes On centres on Cecil Tompion, a popular writer, who has bullied his children for most of their lives. Now, his son, an ex-army officer who survived the trenches of the Western Front, and his daughter, a doctor, are trying to build a new life away from their father. Their lives are touched by another ex-soldier, David, and a close friend, Charlotte, who both desperately struggle to repress their homosexuality.
Influenced by the drawing room comedies of British playwrights, Noël Coward and W. Somerset Maugham, But It Still Goes On explores themes of adultery, homosexuality, lesbianism, gender politics, casual sex and inter-generational conflict.
But It Still Goes On is directed by Fidelis Morgan. The cast includes Alan Cox, Victor Gardener, Jack Klaff, Hayward B Morse, Rachel Pickup, Claire Redcliffe, Joshua Ward, Sophie Ward and Charlotte Weston.