Graduate employment rate rises to a new record high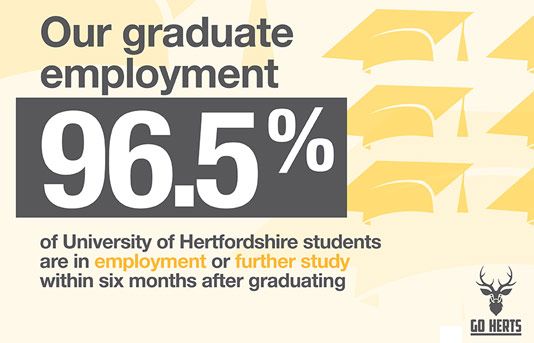 5 July 2018
University of Hertfordshire graduates have recorded employment rates of 96.5% - the best employment rate of graduates in the east of England region and outscoring several Russell Group Universities, including both Oxford and Cambridge.
National Destination of Leavers from Higher Education (DLHE) survey data released today shows 96.5% of University of Hertfordshire students are in work or further study six months after graduating; well above the national average for the UK (94.6%). Conducted by the UK's Higher Education Statistics Agency (HESA), the data ranks the University of Hertfordshire 23rd out of 124 universities in the UK [1].
Five of the University's Schools achieved employment rates of above 95% - Life and Medical Sciences, Humanities, Hertfordshire Business School, Education and the School of Health and Social Work which scored a remarkable 99.6%.
Strong professional partnerships and key workplace engagement
Professor Quintin McKellar, Vice-Chancellor at the University of Hertfordshire said: 'I am delighted to see that the employment rate of our graduates continues to rise. We believe in forging strong professional partnerships and we also offer key workplace engagement to our graduates. All our courses are underpinned by industry insight and 80% are accredited by professional bodies. Coupled with our expert teaching, this approach is helping to equip students with the knowledge, skills and attributes to succeed in the real world.'
The survey provides information on the activities of UK, full time, first degree graduates, approximately six months after qualifying from any university or higher education institution in the UK.
Today's announcement follows the Government's Teaching Excellence Framework (TEF) 2018, which recently awarded the University of Hertfordshire a top gold award for teaching excellence.
[1] For universities with over 500 students