Celebratory event attracts budding female engineers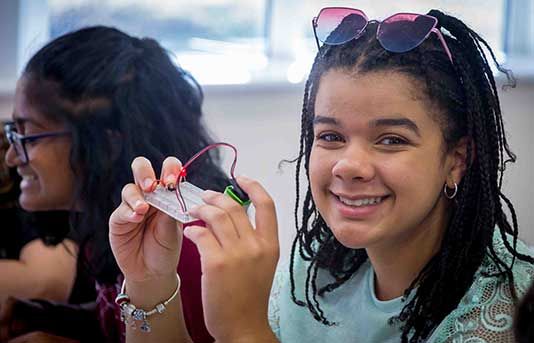 4 July 2018
To celebrate the 100th anniversary of International Women's Day and 2018 The Year of Engineering, over 100 young women were given the opportunity to delve into the world of engineering and technology at the University of Hertfordshire on Saturday 30 June 2018.
The number of women in engineering in the UK - under 10 per cent of the total engineering workforce - is among the worst in Europe*. The University of Hertfordshire is working closely with schools and industry to address this gender imbalance. This event is part of the University's commitment to improve gender equality and help shape a more diverse workforce, in order to maximise innovation, creativity and competitiveness.
Aimed at increasing awareness among young women of the wide range of creative and interesting careers available with a degree in engineering, this free event, initiated by the School of Engineering and Technology at the University, attracted pupils from years 8 to 12.
Showcasing careers in Engineering
Susan Murray, Principal Lecturer, School of Engineering and Technology, said: 'The School of Engineering and Technology is proactive in addressing the challenges of equality, diversity and inclusivity and events like this allow us to spread the STEM story and ensure it is considered as an option. In particular, at this event, parents were asked to join us at the same time so that we could discuss with them career opportunities and showcase engineering careers from female role models in the industry sectors.'
'This event, alongside our support of the East of England Engineering Education Scheme, IMechE Primary and Secondary Engineer Leaders awards and the IET Faraday Challenge event, helps to highlight to young people the positive impact that engineering has on society as well as promoting engineering to girls.'
Interactive activities
Attendees gained hands-on experience of engineering through interactive activities, watched flight and F1 simulator demonstrations and had the opportunity to get involved in practical activities such as building and operating electronic circuits, problem solving with an egg, and laser cutting.
Current engineering and technology students, graduates and lecturers from the University of Hertfordshire were also on hand to offer advice. In addition, a number of commercial companies showcased engineering careers open to graduates.
* Source: Skills & Demands from Industry - 2015 Survey, IET http://www.theiet.org/factfiles/education/skills2015-page.cfm