25 years of Radiotherapy reunion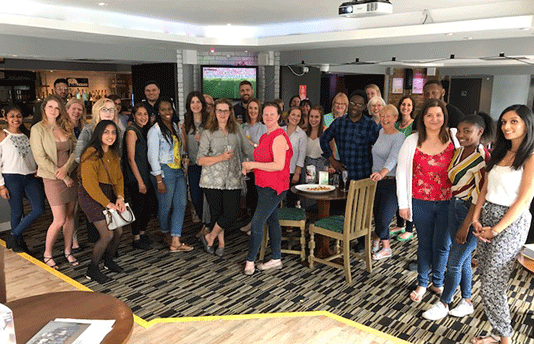 2 July 2018
On Saturday 16 June a special event was held to celebrate 25 years of radiotherapy education at the University of Hertfordshire.
This was the first time that an event like this had been organised and we were thrilled that so many of our alumni could attend. We had alumni representatives from the very first to the last cohort of students.
Special guest
Everyone who attended was a special guest, but in particular, we were very pleased that Janet High, who was part of the original teaching team, was able to join us and also a number of past lecturers and clinical staff who have supported the programme over the many years that it has been running.
It was a fabulous opportunity to catch up on everyone's careers and home lives. Through the course of the afternoon we played a slideshow of photos from across the years (causing much embarrassment for some!) and collated information on a map of the places in the UK where our graduates have been working.
Campus tour
The afternoon ended with a University tour to show off the newly developed campus, for those of us that could be coaxed away from the Elehouse! There was lots of reminiscing about student days and the fun times that were had whilst at University.
Thank you to everyone who was able to attend and well done on all your many and varied achievements – we plan to do another one in 5 years' time so watch this space!
Sam Glendinning