First of its kind collaboration sees Disney join forces with University of Hertfordshire graduate to create an original African sci-fi series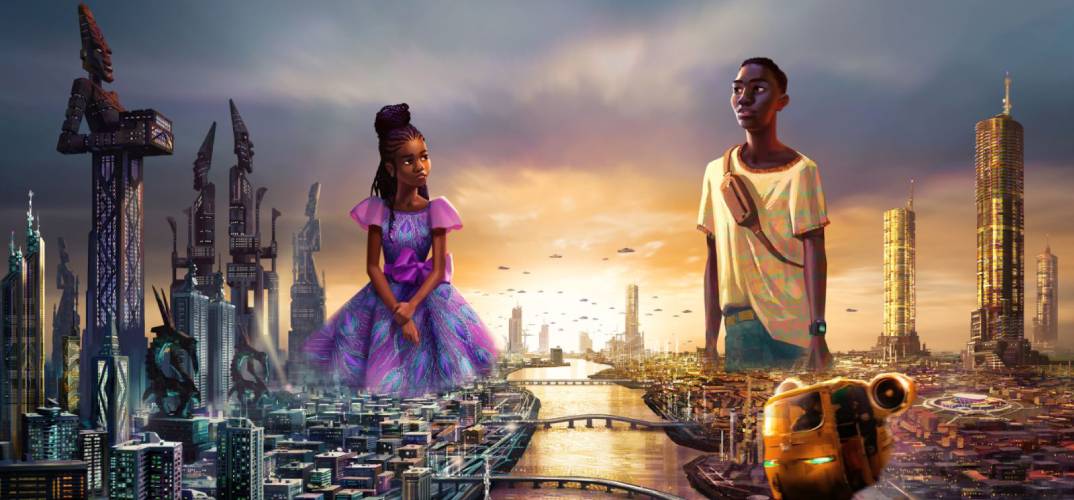 11 January 2021
Walt Disney Animation Studios has announced that it is set to join forces with University of Hertfordshire alumnus Hamid Ibrahim, and his entertainment company Kugali, to create an original African sci-fi series for Disney+.
In what is a first of its kind collaboration for Disney Animation, the series, titled Iwájú, will be set in Lagos, Nigeria and will explore the themes of class, innocence and challenging the status quo. Launching in 2022, the series will bring African stories created by Kugali's founders, Tolu Olowofoyeku, Ziki Nelson and Hamid Ibrahim, to the world.
Alumnus, Hamid Ibrahim, was born in Uganda but pursued his life-long passion for creativity by studying BA (Hons) 3D Animation and Visual Effects at the University of Hertfordshire. After graduating in 2017, Hamid joined visual effects studio Moving Picture Company, where he worked on feature films such as the live-action remake of the Lion King (2019). He co-founded Kugali in 2017 before pursuing it full-time in 2018. Kugali describes itself as an entertainment company that tells stories inspired by African culture, through art, comic books and augmented reality.
Hamid Ibrahim, Co-Founder and Head of Creative Operations at Kugali, said: "I still remember watching the Lion King (1994) as a kid when I was growing up. Hearing them speaking Swahili, a language that I speak myself, in a big picture animation like that was inspiring. From that moment on I knew what I wanted to do; it was my dream to share the stories of my people with the world.
"The skills I learnt at the University of Hertfordshire were vital to my career. My course gave me a solid foundation where I was taught how to create beautiful animations and visuals effects, learning from tutors who themselves had worked on big Hollywood blockbusters. I'm excited about our collaboration with Disney and I'm looking forward to building the world of Iwájú."
Phil Healey, Dean of the School of Creative Arts at the University of Hertfordshire, said: "It's always great to see our students go on to creative industry success after their studies. We aim to give our students the knowledge and skills to work at the highest level in the fast-expanding creative sector, in the UK and around the world. Our staff in the School of Creative Arts are all professional artists, designers, film makers, writers and musicians, teaching in state-of-the-art facilities and working in collaboration with leading industry partners. Our animation and design courses are internationally recognised, and the University was ranked 2nd in the world for Production Excellence in Visual Effects in the 2020 Rookies School and College Rankings."
"Congratulations to Hamid and the team at Kugali. Sharing African stories with a wider audience in collaboration with Disney Animation is an exciting opportunity and we look forward to enjoying the new series. Hamid's achievements are already impressive, and we wish him every success in bringing his vision and this important contribution to global culture to the screen."
Jennifer Lee, Chief Creative Officer at Walt Disney Animation Studios, said: "Developing Iwájú with Tolu, Ziki and Hamid is not only a first-of-its-kind collaboration for Walt Disney Animation Studios, but a personal pleasure for all of us who have the opportunity to work with them. The story Kugali is telling is powerful and dynamic, and we can't wait to help realize their series through the talents of our Disney Animation artists."
Please note that some of the images and videos on our news pages may have been taken before social distancing rules in the UK came into force.