University of Hertfordshire receives positive student feedback in latest NSS results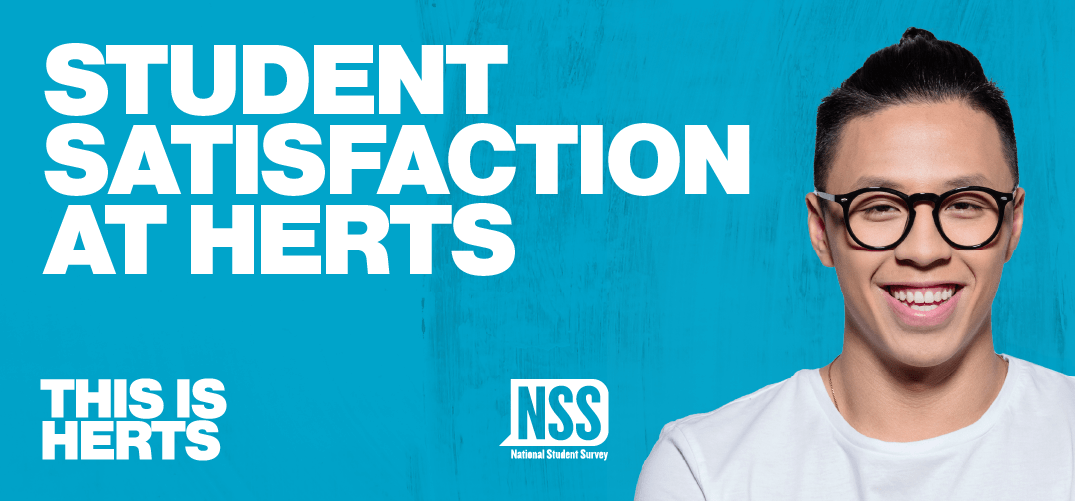 15 July 2020
The University of Hertfordshire's student community has confirmed that their thoughts, views and opinions are being heard across the institution in the latest National Student Survey (NSS) results, released today (15 July 2020).
For the third year running, the University achieved above the sector for Student Voice (76.14%) highlighting the organisation's key focus of engaging with students as partners in teaching and learning. This was also reflected in the University's high 'assessment and feedback' (72.48%) and 'academic support' (79.82%) scores, with students emphasising in particular the quality of academic feedback, course guidance and criteria for marking within each of their Schools of study.
The University is focused on initiatives which celebrate diversity and build a strong community of learning and knowledge sharing. Over 77.44% of students report that they feel part of this community ('Learning Community'), above the sector average of 75.67%. As part of this strategy the University of Hertfordshire is pushing to eliminate its BAME awarding gap. In some Schools, the award gap is lower than 10% and on some programmes there is no awarding gap.
A number of subject areas reported scores of 95% and above for overall student satisfaction, including Economics and Finance, English Language and Communication, Adult Nursing, Fine Art and Linguistics. The University as a whole achieved a student satisfaction result of 82.0% - a slight decrease from last year's score of 82.98%, as is the case for the sector overall.
Mairi Watson, Pro Vice-Chancellor Education and Student Experience, said: 'Engaging students as partners and responding quickly, flexibly and effectively to student feedback is central to what it means to be a university that is focused on building a welcoming learning community that transforms lives. The NSS outcome confirms that our staff and student partnership approach works and has a positive impact on student experience and performance. We are a university that cares deeply about its individual students - what they achieve while they are with us and when they graduate - ensuring that they can always reach their full potential. This survey provides a brilliant feedback mechanism to support us in continuing to provide an excellent and inclusive student experience at the University of Hertfordshire.'
Karthik Kumar Bonkur, President of the Hertfordshire Students' Union, said: 'The NSS captures the views of final year undergraduate students in relation to so many key areas of their academic experience - assessment and feedback, teaching quality, student voice, student community and more. It is great to see today's results highlighting that students feel their opinions and feedback are being valued. Hertfordshire Students' Union would like to say a big thank you to all our students for taking the time to provide their honest answers to this year's NSS and for ultimately helping the University provide the best experience possible.'
Please note that some of the images and videos on our news pages may have been taken before social distancing rules in the UK came into force.