New University of Hertfordshire Enterprise Hub expands local support services for business at a critical time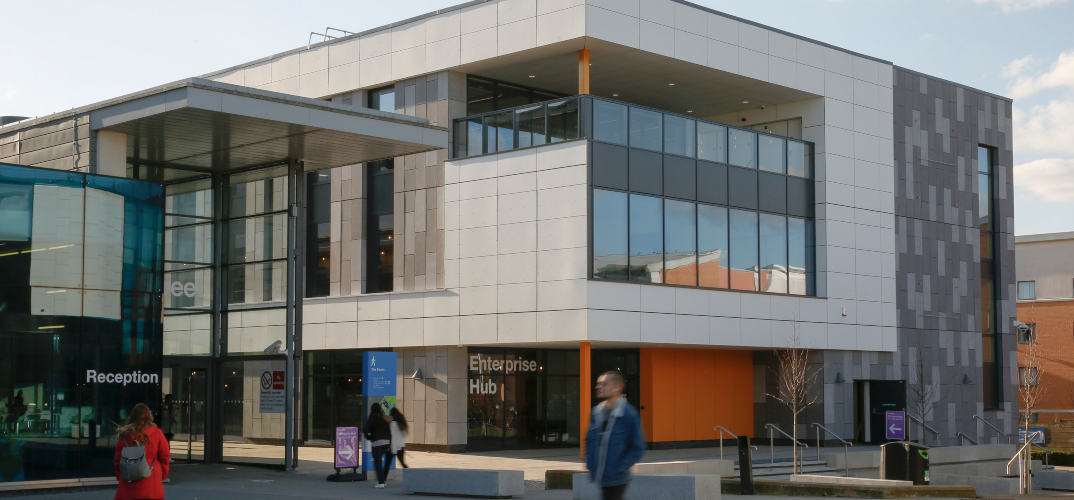 16 December 2020
At a testing time for businesses and entrepreneurs in the region, the University of Hertfordshire has today unveiled its new £12m Enterprise Hub to significantly enhance and expand the existing support it provides for businesses in the region and beyond.
The new Enterprise Hub, which has been part-funded by a £2.5m Local Growth Fund investment from Hertfordshire Local Enterprise Partnership (LEP), is located on the De Havilland campus in Hatfield and marks another milestone in the University's ongoing investment and commitment to providing support for all businesses, regardless of their size or sector.
Over the last three years, every corner of the University of Hertfordshire has been opened up to support businesses big and small. The all campus Incubator provides start-ups and entrepreneurs with the opportunity to use the University's campus and resources, and provides access to top academic experts, skilled graduates, facilities and equipment hire. The businesses are required to engage in a facilitated community of practice, creating a unique opportunity to mentor and learn from each other and gain support from highly experienced mentorship. There are currently 70 active members, with the University having supported over 40 so far through the challenging first year of their operation.
The University of Hertfordshire also has an excellent track record supporting larger organisations grow, adapt and push forward. As well an extensive portfolio of business support services, including the chance to carry out funded research and development through a range of funding opportunities such as Knowledge Transfer Partnerships, the institution also offers a range of highly regarded Degree Apprenticeships, graduate placements and Continuing Professional Development (CPD) opportunities.
The University is dedicated to stimulating a strong entrepreneurial learning environment whilst educating its staff and students on the challenges that modern businesses face. The Enterprise Hub will facilitate greater collaboration between students, academics and the business community and provide additional teaching space for the University's MBA and expanding degree apprenticeships offering. Despite the pandemic, there has been a 51% increase in learners on degree apprenticeship programmes1 at the University, with over 600 learners studying at Herts and new courses planned for 2021.
Julie Newlan, Pro Vice-Chancellor (Business and International Development) at the University of Hertfordshire, said: "It's vital that businesses have access to the right support, particularly during this challenging period, and the Enterprise Hub contributes significantly to the existing support we already provide at Herts. The Enterprise Hub will allow us to enhance and expand our community of practice, where entrepreneurs, with the support of their peers and like-minded professionals, can discuss their challenges in a supportive environment and meet them head-on."
Adrian Hawkins, Chair of Hertfordshire LEP's Skills and Employment Board said: "The Enterprise Hub provides an inspirational environment in which businesses can network with peers, access vital support, and benefit from the expertise of a world-class university with a reputation for championing entrepreneurship. It brings education and enterprise together under one roof, providing valuable collaboration opportunities, as well as first-class facilities for students and academics.
"Despite the barriers posed by COVID-19, the take-up from Hertfordshire businesses to date has been incredibly encouraging. Our funding is an investment in their future growth and prosperity, and we urge all those who are eligible for support to find out more."
Two local businesses have already moved into office space in the Enterprise Hub and it is expected that six out of the seven available offices will be filled by the end of 2020. Many more businesses have actively used the hub's incubation space, including Nexus Learn Arabic, a start-up founded by Jamal A-Tamimi, which provides an online platform to help people learn the Arabic language.
Jamal A-Tamimi, Founder of Nexus Learn Arabic, said: "I've had support from the University of Hertfordshire for the last two years and as a result I have seen my business grow. I was excited to be able to launch Nexus Learn Arabic earlier this year and we have just launched the beta version of our platform. The backing I have received from the University has been vital to its early success and being able to work flexibly at the Enterprise Hub has been invaluable. The entrepreneurial environment keeps me focused and the knowledge I have gained from engaging with other entrepreneurs has helped grow my business."
Minister for Regional Growth and Local Government, Luke Hall MP said: "We're proud to be backing the University of Hertfordshire's new Enterprise Hub with a £2.5 million Local Growth Fund investment.
"It's great news that the hub will be home to six local businesses by the end of the year, providing them with crucial support and offering students the opportunity for industry-led learning. We're supporting vital collaboration between academia and industry to drive forward innovation across the country."
Please note that some of the images and videos on our news pages may have been taken before social distancing rules in the UK came into force.