Gold in the cosmos is an astronomical mystery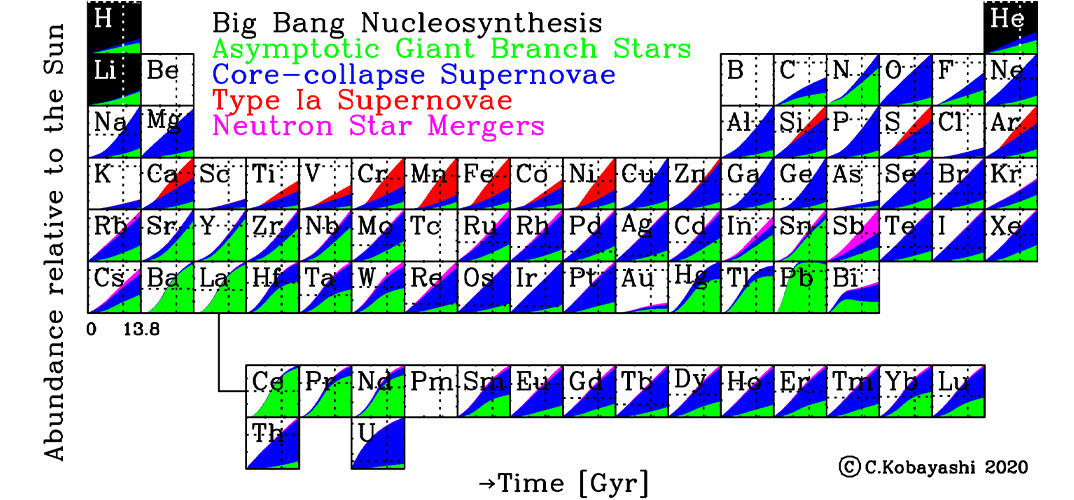 16 September 2020
A new study of galaxy evolution, published in The Astrophysics Journal, reveals unexplained quantities of gold in the cosmos, posing an astronomical mystery. Researchers working on the project say their findings will substantially change the presently accepted view of how the universe evolved.
An international team of female astrophysics researchers led by Dr Chiaki Kobayashi, reader in Astrophysics at the University of Hertfordshire, analysed existing data in the first study of its kind to explore the origins of all the elements in the periodic table.
Gold, along with other heavier elements, were thought to have been created when neutron stars – the remains of highly dense burnt-out stars – crashed into one another. However, the research team found that the role of neutron stars mergers may have been considerably overestimated. It appears that another stellar explosion altogether is responsible for making most of the gold in the cosmos.
Dr Chiaki Kobayashi, University of Hertfordshire, explains: 'Even the most optimistic estimates of neutron star collision frequency simply can't account for the sheer abundance of gold and other elements in the Universe. This was a surprise. It looks like spinning supernovae with strong magnetic fields could be the real source of the majority of these elements.'
The astrophysical problem of the missing gold may be solved by a nuclear physics experiment. Research currently being carried out from nuclear facilities around the world, including Europe, the USA and Japan, with new discoveries expected.
The international team of all female researchers has produced a new-look Periodic Table to demonstrate their findings. The team was led by Chiaki Kobayashi and included Amanda Karakas, from Australia's Monash University and ARC Centre of Excellence for All Sky Astrophysics in 3 Dimensions (ASTRO 3D), and Dr Maria Lugaro, from Hungary's Konkoly Observatory.
Please note that some of the images and videos on our news pages may have been taken before social distancing rules in the UK came into force.