Eco friendly fashion brand scoops two prizes at annual University of Hertfordshire start-up awards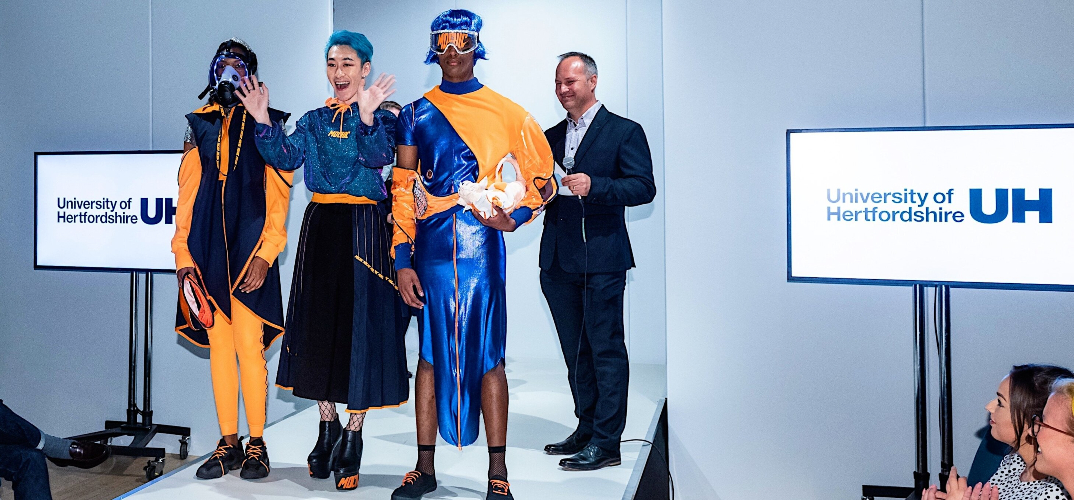 28 October 2020
Creative arts graduate Morchen Liu was the big winner at this year's Flare Ignite awards, scooping £9,000 for his eco-friendly fashion brand.
Held annually, Flare Ignite is the University of Hertfordshire's flagship enterprise competition and is open to students and alumni with innovative business ideas. Morchen impressed the judges with his gender-neutral fashion label Mochic, winning £8,000 in the Scalable Business Award category. The Scalable Business Award recognises a business with a detailed plan on how they will approach the market and scale quickly in the immediate future. Morchen also took home a further £1,000 after winning the People's Choice Award, which was decided by a public vote.
Morchen's fashion label designs modular garments to suit different body shapes and genders. His dynamic approach to fashion aims to reduce the hundreds of thousands of garments ending up in landfill every year.
Reflecting on the award, Morchen said: "Flare Ignite has been a memorable journey for me and my brand, Mochic. This journey is about finding my inner self as a fashion designer, to create a concept of Mochic which I truly stand for. I am honored and pleased to be recognised by industry professionals. It means that the things we are doing here at Mochic are not only important to me as a creator, but also have the potential to alter people's approach to fashion, and lead to greater changes in our society."
Several other awards were presented during the virtual event, including £5,000 for the Innovation and Impact Award, won by engineering and computer science alumni Kennedy Mashanda. His business, Aries VR, accelerates training for pilots using immersive technology and artificial intelligence, whilst reducing training costs.
Creative arts alumni Nina Tara and her business Courageous Art Therapy was awarded £2,000 after winning the Lifestyle Business of the Year Award. Courageous Art Therapy works with primary school children in and around the M25 area to help children impacted by developmental issues, trauma and a variety of other issues.
Business graduate Joy Clyne and her poetry collection were also awarded £2,000 as the winner of the Social Impact Award. The book, titled Under the Umbrella, helps people heal from child sexual abuse, drawing on the author's own experiences growing up.
Julie Newlan, Pro Vice-Chancellor Business and International Development, University of Hertfordshire said: "Congratulations to our winners, and all the students and alumni that took part in this year's competition. This year has been a standout year for creative and innovative ideas, in a time where launching a new business is particularly challenging. This year's winners showcase a variety of different ideas, tackling important issues from sustainable fashion to mental health support. I am excited to see how their ideas progress over the next few years."
The University of Hertfordshire offers a range of services for those wishing to launch a business for the first time, encouraging entrepreneurship at the start of the student journey - nurturing talent from enrolment, through to graduation and beyond.
The University is launching the 2020/21 Proof of Concept scheme on 23 November 2020, open to staff and students. The scheme awards small grants for early-stage business ideas, giving them the opportunity to develop their ideas beyond the initial research.
Please note that some of the images and videos on our news pages may have been taken before social distancing rules in the UK came into force.