University of Hertfordshire's Law Clinic celebrates prestigious win for pro bono work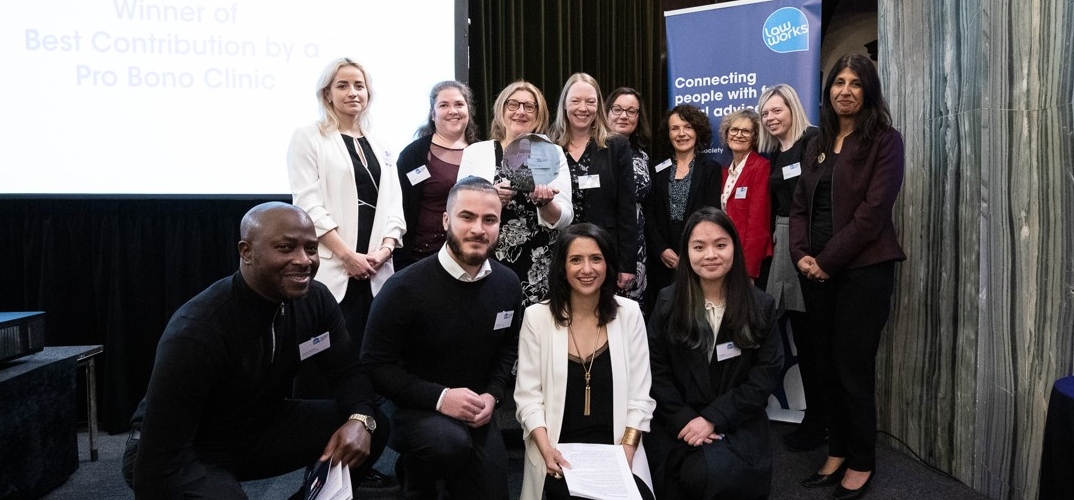 20 December 2022
The Hertfordshire Law Clinic has recently been awarded Best Contribution by a Pro Bono Clinic at the 2022 LawWorks Pro Bono Awards.
The annual ceremony took place earlier this month, where the team received the prestigious award in recognition of their hard work in addressing unmet legal need in the local community.
The judges commended Hertfordshire Law Clinic for the diversity of their work and innovative approach – providing a wide number of services to individuals and SMEs in a range of ways from court runner schemes and tribunal representation projects, to one-off legal advice clinics.
The LawWorks Pro Bono Awards recognise and celebrate the best legal pro bono activities undertaken by organisations and individuals, and the positive impact they have had on those helped. LawWorks is a charity that connects volunteer lawyers with people in need of legal advice.
Hertfordshire Law Clinic launched in October 2019 and provides free legal advice to members of the public and University of Hertfordshire staff and students. Advice is delivered by student advisers under the supervision of qualified lawyers, allowing the students to acquire the skills and experience they will need to practise as lawyers. The clinic provides advice and assistance on a number of different issues including family law, employment law, intellectual property and commercial law, consumer and civil disputes, and housing law.
As well as this win, the clinic's Shelter Court Runner Scheme was also shortlisted for the Most Effective Pro Bono Partnership, having previously won Best Contribution by a Team of Students at the Student Pro Bono Awards in May.
Diana Kirsch, Associate Dean for Enterprise and Director of Pro Bono at Hertfordshire Law School expressed her delight on the win: "It was wonderful to receive this recognition from LawWorks and we are so proud of our Law Clinic team and all our students for their hard work in improving access to justice. There is a huge problem of unmet legal need in our community. Many people simply can't afford to pay for legal advice and there is very limited legal aid for advice in the areas that we cover in our Clinic, particularly family and employment law. We have worked hard to increase access to our services by going out into the community and setting up pop-up clinics in local job centres and food banks around Herts."
Amanda Thurston, Law Clinic Director said: "Having been a practising solicitor for many years, I know how much law firms appreciate students gaining these opportunities to learn and try out practical skills early on. It enhances the employability of our students and gives them the chance to work alongside lawyers from local law firms. We are so grateful to these lawyers and their firms for finding the time to help supervise the students in our clinic on a pro bono basis - we couldn't offer so much support to those in need without them."
Visit the LawWorks website for the full list of nominees and winners; and the Hertfordshire Law School website for more information about pro bono work and the range of law courses on offer.