University of Hertfordshire students first in UK to use cutting edge VR technology to bring pharmaceutical science to life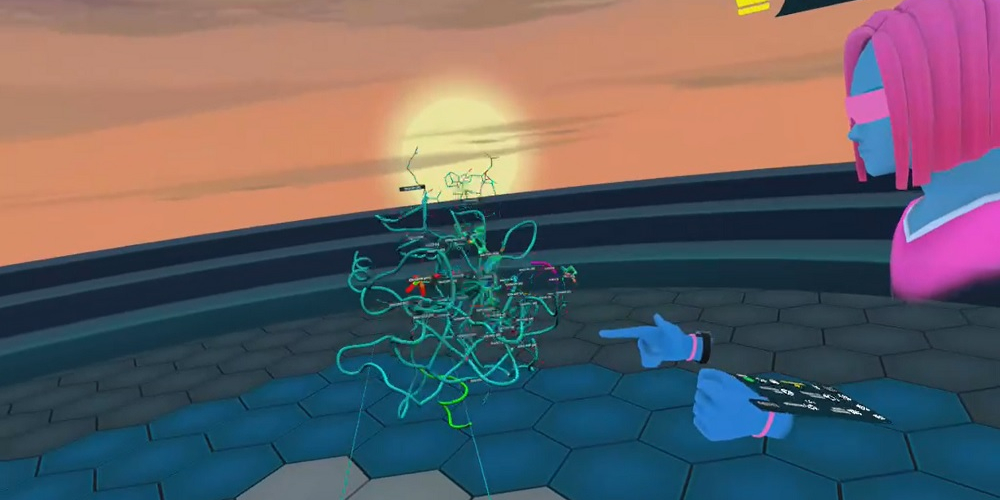 14 June 2022
Students at the University of Hertfordshire are among the first in the UK to use the latest virtual reality (VR) technology as part of their learning and teaching of drug discovery.
Those on the University's pharmaceutical science courses are using VR in this area of study to help them understand the biomechanics of how drugs effectively treat disease, and how new drugs are developed.
The idea of adding VR technology to the course was first instigated by final year student Mae Taylor, following her placement at medical research charity LifeArc. After setting up a VR chemistry lab at their site in Stevenage, she and lecturer Dr Botha saw the potential of introducing the technology into the University's teaching methods, bringing a complex biomechanic process to life.
Now, with the help of Senior Technical Officer James Collyer, the University's state-of-the-art VR Oculus headsets will enable students to 'step inside' a protein in the human body, see how drug molecules behave, and manipulate the virtual molecules in real time to refine the effectiveness of the drug. Mae explained the potential impact for students:
"This is a revolutionary technology which is already being used in industry to make scientific research more accessible. A lot of students really struggle to visualise chemical structures in 3D using traditional molecular modelling software. This technology presents a fun and collaborative new way to visualise drugs and their targets, and that's just one of the many ways we could use it!"
Previously, this teaching was carried out via a computer programme. Dr Michelle Botha, Lecturer in Pharmaceutical Chemistry, explains how moving to a 3D experience with VR is transforming the way students learn: "Understanding how certain types of drug molecules bind to a receptor, and thereby work effectively in the human body, is quite a complex process – but it's vital to understanding how new drugs are discovered and developed, particularly when tackling rarer diseases.
"The pharmaceutical industry is just starting to adopt VR technology, so we're really excited that students at Hertfordshire can be at the forefront of this new way of working. As well as being a fantastic addition to our facilities here, it will give students skills that are at the cutting edge of the industry, paving the way for exciting and trailblazing future careers".