University of Hertfordshire officially opens multi-million pound Institute of Sport with world-class facilities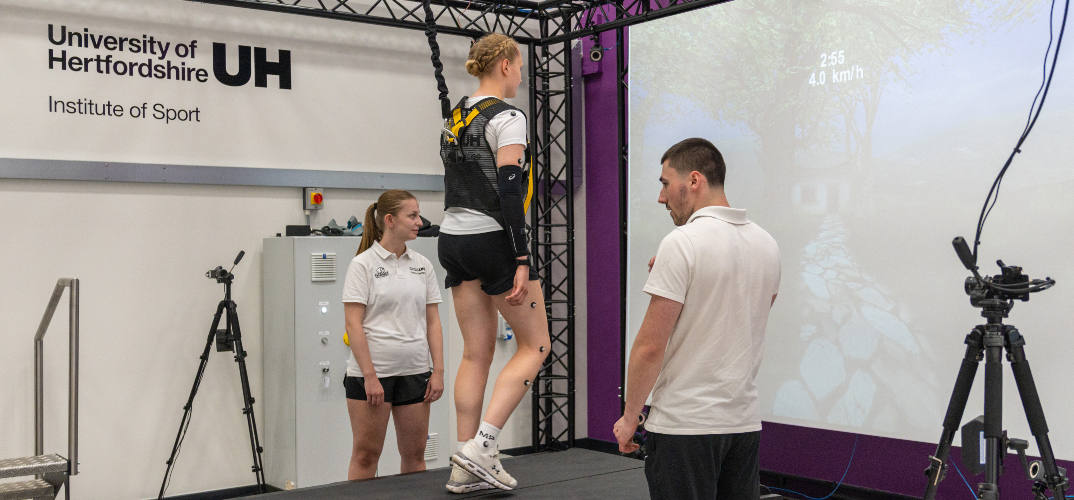 10 June 2022
The University of Hertfordshire has officially opened its state-of-the-art Institute of Sport at a special launch event this week.
Located on the de Havilland Campus in Hatfield, the £7.5million development brings some of the most advanced education, research and training facilities for sport to the southeast. To celebrate this new addition to the University's facilities, the building was opened by Liz Nicholl CBE, former chief executive of UK Sport and current president of World Netball.
The Institute is designed to give students hands-on experience using best-in-class facilities, and provide sports professionals in the region with world-class technology to upgrade their preparation and performance. The new facilities include:
A state-of-the-art biomechanics laboratory, housing one of the few Gait Realtime Analysis Interactive Lab (GRAIL)systems available at a UK university. Featuring a virtual reality screen and integrated motion analysis system, the GRAIL's treadmill can be adjusted to analyse the body's response to physical challenges, and tilted to investigate how the body copes when tripping or falling.
Environment and control room, which can simulate a range of challenging real-world environments, including temperatures from 10-40oC and altitude simulation of up to 5,750m – slightly higher than Mount Everest base camp.
Consultancy room, performance testing and health screening, for athletes of all abilities interested in improving their fitness level, performance and health. This includes the gold-standard Bod Pod to assess body composition, and state-of-the-art ergometers.
Exercise physiology and research laboratories for hands-on classes and research projects. These labs facilitate research in cardiovascular physiology, nutrition and applied biomechanics, as well as providing force and strength analysis during running and jumping exercises.
Sports therapy teaching rooms and clinic, using the latest technology to provide classes and clinical assessments in the prevention, assessment, treatment and rehabilitation of sporting injuries.
Part-funded by a Local Growth Fund investment from the Hertfordshire Local Enterprise Partnership (LEP), the new facility was also made possible through an agreement with GSK. The company agreed a purchase for apparatus from their Human Performance Lab, including the GRAIL system, providing the University with around £800,000 of world-class equipment.
The Institute enhances the University's strong reputation for sports science training and research, creating an industry-leading regional hub to attract the best students, researchers, athletes and coaches. It has already helped to secure the University's position as a lead partner on the UK's successful bid to host the International Working Group (IWG) for Women and Sport from 2022-26.
Dr Richard Southern, Dean of the School of Life and Medical Sciences, said: "We're very proud of the University's sporting heritage, from academic study and research, to our track record in nurturing some of the UK's most exciting and highest-achieving talent".
"The new Institute of Sport cements Herts as one of the most advanced sporting centres in the country, and a real beacon of excellence for the region. It enables us to expand our research and consultancy, and we're looking forward to creating more exciting partnerships with our industry colleagues".
Nitin Dahad, Chair of the Enterprise and Innovation Board at Hertfordshire LEP, said: "We are pleased to mark the official opening of the University's Institute of Sport and that our £3.9m investment has supported a partnership with the IWG and advancement of gender equality in sport, physical education and physical activity.
"Skills, enterprise and innovation are at the heart of the LEP's vision for growing the local economy, and we greatly welcome the exciting opportunities opening up through the Institute of Sport in terms of high-level, world-class skills and careers for young people in sports, health, and exercise science, as well as new partnerships with Hertfordshire SMEs".