University of Hertfordshire wins £5.8million funding towards new, state-of-the-art, School of Physics, Engineering and Computer Science building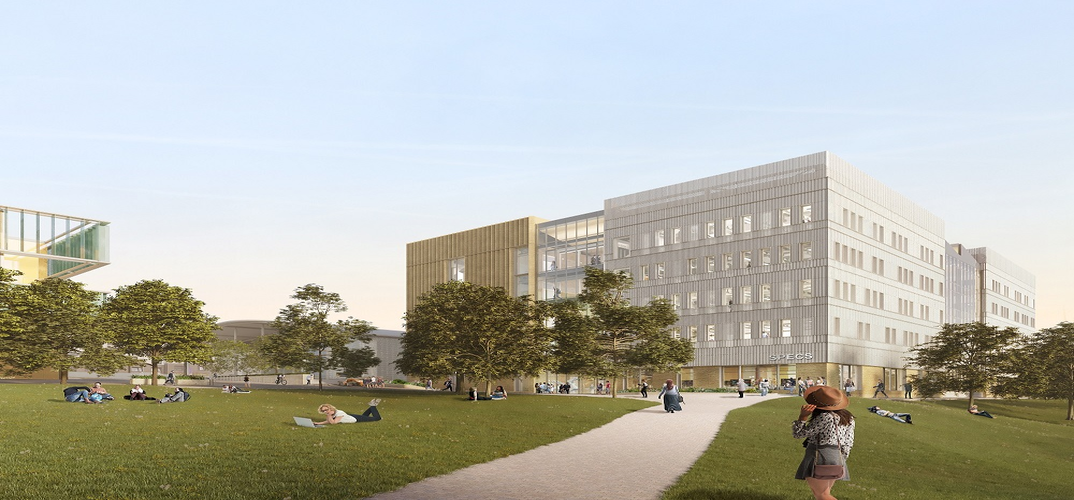 9 December 2022
The University of Hertfordshire has been awarded £5.8million by the Office for Students (OfS) towards the construction of its new, state-of-the-art School of Physics, Engineering and Computer Science (SPECS) building, which will revolutionise teaching and research at the university.
The grant, announced by OfS this week following a competitive process, will contribute to capital costs for the new facility, which will be the largest single building at the University's College Lane campus in Hatfield. The multi-purpose teaching, research and enterprise facility, which began construction at the start of this year, will provide new, more innovative ways of delivering education to students, using high quality facilities and equipment that will mirror their future careers. The building will be used by up to 7,500 students and help to create the next generation of engineers, physicists and computer scientists.
Facilities will include a robotics lab, cyber security centre, wind tunnels, electric vehicle hub, instrumentation and bio detection centre, advanced materials flight and cutting-edge Experiential Learning Zones. The building will house dedicated research centres to advance the University of Hertfordshire's world-leading and internationally excellent research and business and industrial engagement. Working closely in partnership with industry, this major new education and training hub will focus on delivering a workforce equipped with technically advanced skills in much needed skills gaps.
Hertfordshire is one of 47 universities to be awarded the maximum £5.8million amount from the OfS £432million capital funding pot, aimed at supporting investment in new buildings, facilities and equipment for universities and colleges across England.
Professor Quintin McKellar CBE, Vice Chancellor, said:
"There is currently a UK skills gap and a lack of diversity in science, technology, engineering and mathematics (STEM) sector, both of which hold back progress. Our new home for the School of Physics, Engineering and Computer Science will transform the student experience – demonstrating the exciting and fulfilling possibilities within modern careers and driving more young people from all backgrounds to want to study in these fields.
"The building will provide a single home for students and researchers specialising in these key subjects for the first time, and through new equipment, work spaces and innovative ways of teaching, will boost students' learning and experience. Ultimately this facility will support the creation of a future workforce with advanced technical skills and expertise to generate crucial economic growth locally, nationally and beyond. It will also enable us to drive forward our brilliant internationally recognised research to higher levels.
"We are delighted that the OfS has recognised the need for this new building and is providing this support. This funding will directly help our students, providing them with options and opportunities that would otherwise be out of reach, and setting them on a path to become the great innovators of the future. It is also fantastic news for Hertfordshire to see this level of investment in our future workforce."
Successful capital bids demonstrated value for money, effective project management and environmental sustainability. Bids also needed to show how they met one or more priority categories, which included how they supported the development of high-cost subjects of strategic importance - such as laboratory-based topics in science, technology and engineering – and how they enhanced graduate employability and the skills needs of employers and industry, and therefore local and regional economies, and how they supported part-time and other forms of flexible provision to include the development of higher education short course study.
Susan Lapworth, Chief Executive of the OfS, said:
"Investing in modern buildings and innovative equipment will help universities and colleges in England prepare students for their future careers. Modern laboratories and state of the art technology mean students learn with the best facilities. Our investment will also increase the provision of short courses that offer flexibility to boost the skills of the workforce.
"Competition for funding was strong, with high quality applications from across the sector. The OfS-funded capital projects will ensure current and future students have a positive experience while studying expensive-to-deliver subjects that are strategically important to society. Taxpayers will feel these benefits too, as our investment will boost local and regional economies and support environmental sustainability."
The University of Hertfordshire's landmark School of Physics, Engineering and Computer Science (SPECS) is scheduled to be completed in Spring 2024. For more details and updates visit: School of Engineering, Physics and Computer Science (SPECS) Building | About us | Uni of Herts